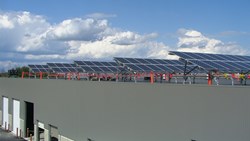 We can handle the biggest jobs," says MSS President Mark Hagerty "but, the ones we do for homeowners are just as rewarding.
Commerce Township, MI (PRWEB) October 28, 2013
It's a beautiful, sunny day in Southern Michigan, and Michigan Solar & Wind Power Solutions (MSS) is installing a massive 100kw solar electric system on the roof of Powers Distributing in Orion Township. Michigan Solar Solutions is a full service solar and wind power company that is also one of Michigan's oldest and most established solar providers. Michigan Solar & Wind Power Solutions installs some very large solar electric systems in Michigan. However, their main focus is taking care of homeowners ranging from senior citizens to first-time buyers. "We can handle the biggest jobs," says MSS President Mark Hagerty, "but the ones we do for homeowners are just as rewarding."
It's no surprise that interest in solar energy is higher than ever before. Utility costs have risen over 8% a year since 2004 and there appears to be no end in sight. Customers of MSS seek a better option and they seek to eliminate the worry of a monthly power bill. "Our customers see themselves being independent of the power companies," Hagerty also says, "Electricity costs are poised to skyrocket and our customers know their best financial option is to become energy independent." 
As the final solar panels are put in place on this hot day, Hagerty displays a sense of excitement. "This was a very large solar installation that took a lot of effort." Hagerty goes on to say, "We are now happy because Powers Distributing will be saving money while also living up to their high standards of recycling and being green." Hagerty was also excited to see Power's fleet of Hybrid trucks pulling into their newly completed recycling building which is now powered by solar.
Michigan is following the solar trend that's been happening for years in other parts of the United States as well as in Germany, Spain, and Japan. "The idea is simple; to use clean and natural energy that is of abundant supply for our power needs. The sun can fit approximately 1.3 million earths inside it," Hagerty says with a smile, "so we'll have that energy source for a long time to come."
Michigan Solar & Wind Power Solutions is happy to discuss all solar possibilities with potential clients in the region. MSS does all of the work; they come to your house or business, and they'll formulate a logical plan. MSS also works with the customer to gain any discounts or credits. Hagerty claims that solar power is one of the best economical and financial decisions that a home or business owner may ever make.  
Those looking for more information on Michigan Solar & Wind Power Solutions can visit their website for more information at http://michigansolarsolutions.com/, on Facebook https://www.facebook.com/michigansolarsolutions?ref=br_tf or by calling (248)-520-2474. You can also check out this video regarding the Powers Distributing solar installation http://www.youtube.com/watch?v=usLVOk-ZWKw to learn more.