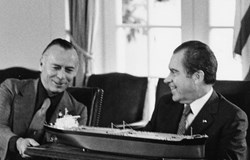 Jesse Calhoon was an exemplary individual, a great labor leader and a true visionary for the U.S. Merchant Marine when it needed it the most.
Washington, DC (PRWEB) October 24, 2013
The Marine Engineers' Beneficial Association (M.E.B.A.) is sad to announce that Jesse M. Calhoon, the M.E.B.A.'s longest serving President who is widely credited with ushering the Union into the modern era, died on Tuesday October 22. He was 90 years old.
Calhoon served the M.E.B.A. as a powerful and visionary leader, and a tough negotiator who employers viewed as a formidable but trustworthy adversary. His dynamic service as M.E.B.A.'s top executive and Chairman of the Board of Trustees spanned over 20 years and six U.S. Presidencies. Jesse's energy for the job allowed him to maximize his influence within the industry and on Capitol Hill. Wages and benefits for members rose dramatically during his tenure.
"Jesse Calhoon was an exemplary individual, a great labor leader and a true visionary for the U.S. Merchant Marine when it needed it the most. He was also brave. Jesse served our country and our Union well in peace and war," said M.E.B.A.'s current President. "With his final sailing, I am reminded how much he contributed and how great the debt we owe to those who sailed before us. Jesse Calhoon is the standard by which all of us should measure our work on behalf of the Union and our industry."
"As a third generation M.E.B.A. member and a Calhoon M.E.B.A. Engineering school graduate, Jesse Calhoon had a profound influence on my life," said M.E.B.A.'s Secretary-Treasurer. "He was an icon of the industry."
Jesse was born in Belhaven, North Carolina, on April 4, 1923 into a farming family that supplemented their income by fishing. He first went to sea as a coal passer in Norfolk, VA in 1939 at the age of 16. He joined up with the National Maritime Union and shipped out as a fireman and then oiler before sailing in convoys in support of the allied effort to defeat Hitler in World War II. During the war, he made numerous voyages on the harrowing Murmansk run and helped shuttle supply ships through dangerous waters including during the invasions of North Africa and Sicily. On one mission, he cheated death when his ship was torpedoed in the Gulf of Mexico.
By 1949, Jesse had worked his way up to Chief Engineer. In 1954, Jesse began his climb up the political ladder in M.E.B.A., eventually reaching its top rung as President.
Jesse's accomplishments in the M.E.B.A. and the labor community at large were vast and far-reaching. In the mid-1960s, with a high membership withdrawal rate and a shortage of maritime manpower as the Nation headed into the Vietnam war, Calhoon formed a Union-run apprenticeship program, Operation LEAP (Licensed Engineer Apprentice Program). The program quickly expanded into a full cadet school. To this day, the Calhoon M.E.B.A. Engineering School offers the finest continuing education for maritime officers.
"When I attended the Calhoon Engineering School I looked up to and admired Mr. Calhoon. He had presence that commanded respect. As I moved along in my engineering career following graduation and came into contact with maritime labor officers and industry officials, I began to realize how extraordinary Jesse Calhoon was and how important he was to our Union and the maritime industry," said the M.E.B.A.'s President.
Another hallmark of the Calhoon era was his ability to transform the Union's pension plan into a healthy and full-funded retirement fund for hardworking M.E.B.A. members when their wrench-turning days were done. Throughout Jesse's presidency, he used his political savvy coupled with shrewd negotiating to win unprecedented gains for his members and safeguard American maritime jobs at large.
Jesse also flexed his power in national politics and proved decisive in the formation and successful passage of Richard Nixon's Merchant Marine Act of 1970. The Act provided for the construction of hundreds of U.S.-flag ships over the next decade. Jesse's presence in the Oval Office was not uncommon and his influence in Washington provided a megaphone for the maritime industry in the highest halls of power. He also vigorously fought for legislation which protected thousands of U.S. mariner jobs and ensured the continued viability of the U.S. maritime industry.
Jesse spent his final years in Naples, Florida. He joins his beloved wife Jean in death and leaves behind three sons, a daughter, four grandchildren, extended family and many friends and admirers. Initial plans were that half of Jesse's ashes will be buried with his wife and half would be scattered in the Atlantic Ocean. A ceremony to honor his memory is currently being planned.
About the Marine Engineers' Beneficial Association
The M.E.B.A., America's oldest maritime labor union, supplies U.S. Coast Guard-licensed deck and engineering officers in both the U.S. domestic and international trades. The Union was established in 1875. Its members serve aboard containerships, tankers, tugs and barges, research vessels and ferries. In wartime, M.E.B.A. members have sailed in virtually unarmed merchant ships delivering critical defense cargo despite attacks from enemy aircraft, submarines and warships. In times of peace, our members still face dangers such as piracy on the high seas in order to serve their country.