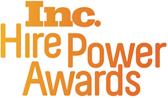 We are always on the lookout for highly talented team members and plan to continue our rapid pace of hiring far into the future.
San Mateo, CA (PRWEB) October 24, 2013
3Q Digital, a rapidly growing digital marketing agency with offices in San Francisco, San Diego, Chicago, and the Silicon Valley, has received a 2013 Inc. Hire Power Award, recognizing the private businesses that have generated the most jobs in the past three years. This recognition comes just weeks after 3Q Digital received an award from the San Francisco Business Times for being the 23rd-fastest growing private company in the Bay Area.
3Q Digital was recognized for its rapid growth and job creation. Since October 2012, 3Q Digital has increased staff by over 65% percent.
"Hiring awesome people is the lifeblood of our business," said David Rodnitzky, Founder and CEO, 3Q Digital. "We are always on the lookout for highly talented team members and plan to continue our rapid pace of hiring far into the future."
The award comes during a year in which 3Q Digital opened new offices in San Diego and San Francisco and expanded its existing Chicago offices. 3Q Digital, formerly PPC Associates, also underwent a successful rebranding in September of 2013.
3Q Digital continues to be a strong presence in the digital marketing field, working with over 70 clients and more than $220M in annual spend, and generating 70% year-to-year growth since its inception.
3Q Digital is among the 437 private growth companies that are Hire Power Award honorees, leading the way in creating more American jobs. While the honorees are found across the country in 25 categories, industries with the most Hire Power companies include health, financial services, software, human resources and IT services. States with the most honorees include California, Florida, Texas, Ohio, New York, Massachusetts, Illinois and Utah.
About 3Q Digital
3Q Digital is a leading digital marketing agency headquartered in Silicon Valley, with offices in downtown San Francisco, San Diego, and Chicago. We offer full-service marketing services including ROI-focused SEM and PPC, display advertising, Facebook advertising, mobile advertising, SEO, retargeting, and Twitter advertising. Our clients range from ecommerce to education service to private-sales sites – combined they've rated us an incredible 91% on a recent Net Promoter survey, validating our claim as the best digital marketing company around.
Originally founded in 2008, 3Q Digital's senior team is led by David Rodnitzky (Founder & CEO), Will Lin (Co-Founder & Partner), and Dave Yoo (COO). For more information, visit http://www.3QDIGITAL.com or email info(at)3QDIGITAL(dot)com.