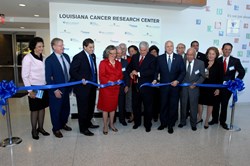 New Orleans, LA (PRWEB) October 23, 2013
The Louisiana Cancer Research Center (LCRC) held a ceremony today to officially dedicate its new 10-story, 180,000-square-foot building located at 1700 Tulane Avenue in downtown New Orleans. The state-of-the-art research facility represents Louisiana's commitment to eradicating cancer among its citizens. The new facility, along with the research and programs provided by the Louisiana Cancer Research Consortium, is recognized by the State of Louisiana as the beginning of what will be a progressive biomedical corridor emanating from New Orleans and spreading throughout the coastal, southeast United States.
The LCRC is a collaboration of Louisiana State University (LSU) Health Sciences Center-New Orleans, Tulane University Health Sciences Center, Xavier University of Louisiana and Ochsner Health System. It offers access to technologies, services and scientific consultation that enhances scientific interaction and productivity. It is located in what is fast-becoming the city's new biomedical corridor, an area that also includes the New Orleans BioInnovation Center, the University Medical Center at New Orleans, which is currently under construction, and the new VA Medical Center (also under construction), a teaching and research medical complex that will serve both Tulane and LSU medical schools.
Today's ceremony, which included a ceremonial ribbon cutting and tours of the building, was attended by State Senator John A. Alario, Jr. - District 8, State Representative Walt Leger, III - District 91, Mitch Landrieu, Mayor, City of New Orleans and Jacquelyn Brechtel Clarkson, City of New Orleans Council President. In addition to local dignitaries, LCRC board members, scientific and administrative leadership, staff, university partners, area cancer research supporters and cancer survivors were all recognized for their continued support and commitment to the LCRC.
"The new LCRC building stands as the physical embodiment of the Consortium's work," said Larry Hollier, MD, chairman of the LCRC Board of Directors and Chancellor, LSU Health Sciences Center-New Orleans. "While the individual university partners provide state-of-the-art technologies necessary to assist researchers in their work, it is through the Core equipment and services provided under this roof, that helps facilitate collaboration across the various research programs, thus creating a vital flow of information that benefits everyone."
"The LCRC is one of the first completed projects among the many state-of-the-art medical facilities currently under construction in our city," said Dr. L. Lee Hamm, vice-chairman of the LCRC Board of Directors and Senior Vice President and Dean, Tulane University School of Medicine. "It will pioneer breakthrough advances in detection, treatment and prevention of cancer while fostering economic development in downtown New Orleans and throughout our region."
The Consortium, which began with founding partners LSU Health Sciences Center-New Orleans and Tulane Health Sciences Center, expanded with the addition of Xavier University of Louisiana and Ochsner Health System, which joined the LCRC in 2007 and 2010, respectively. Both play vital roles in enhancing the cancer research taking place at the Center. Xavier's cancer research focuses on prostate and breast cancer programs, as well as examining health disparities, while Ochsner and its local researchers, physicians and neighborhood clinics enhance the efforts of the existing LCRC partners in developing a world-class coordinated cancer research and education resource for this region.
"With approximately 160 Louisianans dying of cancer each week, the research that is currently taking place in this new facility and at our partner institutions will help us reduce Louisiana's cancer mortality rates, while eliminating health disparities and saving more lives," said Dr. Norman Francis, LCRC Board Member and President, Xavier University of Louisiana."
The new facility was designed as a physical work-space for the Consortium's work as it seeks National Cancer Institute (NCI) designation as a comprehensive cancer center. The collaborative cancer research and education programs within help optimize discovery and development of innovative cancer therapies, leading to innovative clinical treatment programs.
"The LCRC has always been an ambitious enterprise, bringing together the best and the brightest cancer researchers for the benefit of the citizens of Louisiana," said William Pinsky, MD, LCRC Board Member and Executive Vice-President and Chief Academic Officer for Ochsner Health System. "Our goal is to provide the infrastructure to support the clinical research programs of all LCRC partners."
Groundbreaking on the new Louisiana Cancer Research Center building took place in 2009, with researchers and staff moving into the building earlier this year. Four floors of the building are dedicated to cancer research laboratories for its partners' research programs. One floor houses a vivarium and LCRC's administrative offices, with four floors (80,000 square feet) dedicated to parking. A final floor is reserved for clinical research and support services. The building design includes a two-story glass element, which includes a spacious lobby and conference center capable of seating 250 people for scientific meetings, as well as community events.
"Louisiana, and specifically New Orleans, is gaining momentum in the area of biosciences," added Hollier. "With the official opening today of the Louisiana Cancer Research Center and the addition of the new hospitals opening soon, we know that New Orleans can and will become a destination for distinguished researchers and cancer patients from around the region and the world."
For more information about the Louisiana Cancer Research Center, visit http://www.louisianacancercenter.org.