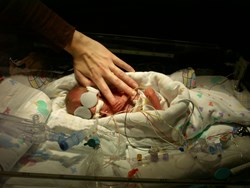 Any mother who chooses to give her milk selflessly to another baby should be commended. This study gives moms who choose to share or receive milk independent of a milk bank more information to help then analyze the risks versus the benefits.
Fort Worth, Texas (PRWEB) October 25, 2013
This week Pediatrics, the Official Journal of the Academy of Pediatrics, published an independent study on "Microbial Contamination of Human Milk Purchased Via The Internet." The study concludes:
"Human milk purchased via the Internet exhibited high overall bacterial growth and frequent contamination with pathogenic bacteria, reflecting poor collection, storage, or shipping practices. Infants consuming this milk are at risk for negative outcomes, particularly if born preterm or are medically compromised. Increased use of lactation support services may begin to address the milk supply gap for women who want to feed their child human milk but cannot meet his or her needs."
Amy Vickers, executive director of the Mothers' Milk Bank of North Texas, which provides pasteurized donor human milk to premature and medically fragile babies, offers this perspective.
"The great interest in the Pediatrics study shows that there is a growing enthusiasm for breastfeeding and the benefits of breastmilk in the United States. In fact, very recently, the Centers for Disease Control announced that our country's breastfeeding rates are increasing significantly compared to a decade ago. With that enthusiasm comes a great responsibility to steward a valuable resource, human milk.
Many breastfeeding women have a strong, generous desire to help others by sharing their liquid gold with babies who may not otherwise have the benefits of breastmilk. We are fortunate to know thousands of them who have supported the mission of the Mothers' Milk Bank of North Texas for a decade. With their generosity, we are able to feed the most fragile babies safely and compassionately — and these are primarily premature infants and those with life-threatening conditions or allergies. We are able to serve these babies because our organization and other nonprofit milk banks are known leaders in educating women and practicing the best methods for expressing, pasteurizing, and dispensing human milk.
Any mother who chooses to give her milk selflessly to another baby should be commended. This study gives moms who choose to share or receive milk independent of a milk bank more information to help then analyze the risks versus the benefits. Our hope is that women who are expressing and storing their milk will thoughtfully consider donating to a local, nonprofit milk bank and help us feed the tiniest, most fragile babies — because their need is so great and the return is priceless."
About the Mothers' Milk Bank of North Texas
The Mothers' Milk Bank of North Texas (MMBNT) is a non-profit organization founded in 2003 to provide premature and critically ill infants with donor human milk when their own mother's milk is not available. To donate breastmilk, please email moms(at)texasmilkbank(dot)org or call 817.810.0071 or toll-free 1.866.810.0071. Learn more about milk banking at http://www.texasmilkbank.org.
# # #