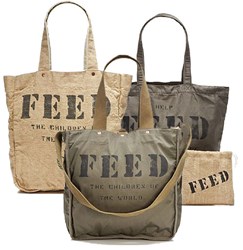 New York, NY (PRWEB) October 28, 2013
World of Children Award (http://www.worldofchildren.org) will honor Lauren Bush Lauren on November 7, 2013 for her work as Founder and CEO of FEED (feedprojects.com), a social business that fights hunger. In celebration of Lauren, World of Children Award is hosting a FEED Bag Giveaway to help raise awareness about hunger and malnutrition. Contestants can enter at worldofchildren.org/feedbag. The contest will end on November 6, 2013, and winners will be announced online on November 7, 2013 during the World of Children Annual Awards Ceremony.
Lauren Bush Lauren founded FEED Projects in 2007 with the mission of "Creating Good Products That Help FEED the World." Every product sold has a measurable donation attached to it and, to date, the social business has been able to donate over $6 million and provide over 60 million school meals globally through the United Nations World Food Programme and Feeding America. FEED has also supported nutrition programs around the world, providing micronutrients to over 3.5 million children through UNICEF.
World of Children Award will give away three FEED Bags: the FEED 2 Bag (first prize), FEED 1 Bag (second prize), and FEED 10 Bag with Pouch (third prize). The proceeds of each bag provides school meals for children around the world.
World of Children Award is led by Co-Founders Harry Leibowitz and Kay Isaacson-Leibowitz, retired senior executives from Procter & Gamble and Victoria's Secret respectively, who first started the organization to honor individuals serving children with a Nobel Prize-like award. Since 1998, World of Children Award has granted more than $5 million in cash grants and program support to 100 Honorees who are the driving force behind programs serving children in more than 140 countries.