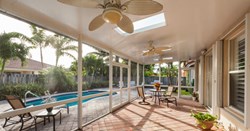 With custom design, we can make a patio cover work for the house, the neighborhood and the homeowner's budget.
MIAMI, FL (PRWEB) October 28, 2013
Custom design by Venetian Builders, Inc., of even modest screen patio covers helped the company boost its residential volume in Parkland, Broward County, during the first half of 2013, Venetian President Chris Noe said today.
"We custom design everything we install, regardless of its size or cost, and we custom-fabricate each project in our own facilities," Noe said.
Broward County continues as the top generator of residential income for Venetian Builders, Miami. Venetian installs aluminum sunroom additions, patio roofs, patio rooms, and swimming pool enclosures in Broward, Palm Beach County, Miami-Dade and the Keys in Monroe County.
"Screened patio enclosures are popular right now, partly because of the convenience and comfort they add and very much because of their affordability," Noe said. "With custom design, we can make a patio cover work for the house, the neighborhood and the homeowner's budget." Venetian designers are experienced at making screen rooms match the proportions of the home they expand, Noe said.
Venetian doesn't follow a cookie-cutter design approach, Noe said. "We don't assume that the best Parkland patio cover will be a design we built in Coral Springs or Deerfield Beach," Noe said. "Architecture can differ from neighborhood to neighborhood, let alone from town to town. We design for the individual homeowner's needs and location."
The company is experienced at surpassing high-wind regulations, such as those required of outdoor rooms and pool enclosures along golf courses, parks, canals, inlets, lakes and ponds. "Our permitting experts are adept at meeting regulations for municipalities and for homeowners associations, which are plentiful in Parkland," Noe said. "Our experience with permitting and the high technology behind aluminum framing systems help us cut the time from design to construction, and to occupancy."
Careful engineering lets Venetian install screen rooms that can convert later to sunrooms when the need arises and the budget permits, Noe said. "It makes deciding on a patio screen easy, because it doesn't rule out upgrading to fully enclosed, climate-controlled living space later," he said.
Estimates are written, detailed and free. In-home consultations also are free. "The customer doesn't even have to drive to a showroom, because we bring our mobile showroom right to the house at no cost," Noe said.
For more information call 866-596-2427.