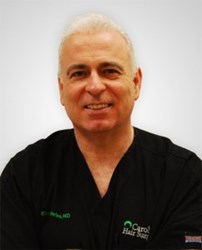 Due to the amount of time and precision an FUE procedure takes, medical doctors tend to shy away from the procedure, but the results can't be beat.
Fort Mill, SC (PRWEB) October 29, 2013
Dr. Michael Vories, a hair transplant surgeon specializing in follicular unit extraction (FUE) and medical director of Carolina Hair Surgery, recently presented several sessions on the follicular unit extraction (FUE) procedure at the 21st annual International Society of Hair Restoration Surgeons (ISHRS) Scientific Meeting in San Francisco this past week. Dr. Vories performs the FUE procedure exclusively at his two medical practices serving the Charlotte, NC metro area and Charleston, SC.
The FUE hair transplant allows the hair surgeon to extract individual hair follicles from the donor area in the back of the head leaving no visible scar and then transplant the follicles to designated areas of the scalp where hair loss has occurred. Dr. Vories shared his experience using the NeoGraft automated FUE tool to extract hair follicles and the Hans Hair Implanter tool to transplant hair follicles to designated areas on the scalp. This procedure produces more natural-looking hair growth results for the patient, is less invasive and minimizes visible scarring compared to the traditional hair transplant procedure that leaves a linear scar in the donor area on the scalp.
Attendees of the ISHRS Scientific Meeting included hair surgeons and other medical professionals interested in hair restoration.
"Due to the amount of time and precision an FUE procedure takes, medical doctors tend to shy away from the procedure, but the results can't be beat," said Dr. Vories. "Thanks to tools like the NeoGraft and Hans Hair Implanter, the procedure can be done more efficiently."
About Carolina Hair Surgery
Hair restoration surgeon Michael Vories, M.D. specializes in follicular unit-extraction (FUE) using the NeoGraft technology, a procedure he uses exclusively in his Charleston and Charlotte area medical practices. Dr. Vories is currently the only diplomate of the American Board of Hair Restoration Surgery in South Carolina. His expertise in using the NeoGraft in FUE procedures has made him a sought after medical conference speaker and hair transplant medical expert for media interviews. CarolinaHairSurgery.com