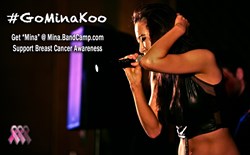 Mina Koo performs live for Keep-A-Breast Halloween Bash in Brooklyn.
Brooklyn, NY (PRWEB) October 24, 2013
International Pop artist Mina Koo brings her club banger dance pop originals to Brooklyn, NY all the way from Hollywood, California, to raise fund for Keep A Breast foundation. Mina will present her performance with her dancers, and herself changing in outfits, and the show is ready to lead the audience into Halloween party. Mina's songs merge diverse influences from Hip Hop to Rock, from Electro to Funk, thus appealing a wide range of audience. The event will be held at Branded Saloon at 9:30 pm on Saturday October 26th.
Mina says, "The show carries so many precious stories to tell." She recalls that she was not sure how she could connect her musical career with her passion to the cause, but over the past year, she met the right people to work with. She expresses her thanks by mentioning that she has "so much to boast about" her fans, friends and show crew. Hip Hop duo Ill-Responsible, at Hip Hop Against Cancer Movement will also participate and make the show even more meaningful. Coordinated by Selena Tenorio, the show is part of a #GoMinaKoo campaign in support of breast cancer awareness.
To join this effort, get "Mina" at Mina.bandcamp.com, and $2 from each order goes to Keep A Breast foundation, which will educate 10 more people about breast cancer prevention, early detection and coping. You'll be credited in Mina's next album, receive her personal note of thanks, and will be automatically entered into the contest to win raffle prizes of the night!
More info @ http://www.MinaMinaKoo.com.