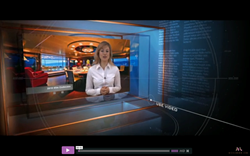 I had been writing email newsletters to my clients for years and never heard a word back. I converted them to video format and all of a sudden the phone started ringing
Chelmsford, Essex (PRWEB UK) 26 October 2013
David had been using video to spice up his email newsletters with great success. "Client's loved them", he said. "I had been writing email newsletters to my clients for years and never heard a word back. I converted them to video format and all of a sudden the phone started ringing".
Intrigued by the results, Jeff set about developing a system that would streamline the costs of the videos and decrease the production times. "The videos that David was producing were great", said Jeff, "but they were so expensive, and often took over a month to produce. Modern business people have come to expect a high quality offering but at a contained price and with a very quick turnaround time".
By developing a series of motion graphic templates, booking professional, trained TV presenters, and keeping each video to a length of one - two minutes, the partners were able to bring costs down to a remarkable level. "A professional presenter is quite an expensive option if you just have one or two videos to produce", said David, "But if we are organized and have our auto-cue set up properly then we can comfortably film 30 - 40 videos with a presenter in just one day."
Approaching video as an industrial process as well as a creative one has resulted in an amortization of costs and rapid turnaround speed, so that the end product comes in at under £200. "Once we have a storyboard approved by our clients we commit to delivering a finished video within ten working days," says Jeff. "Usually our clients get their video just one week later."
MokaBox have already acquired some significant clients in the yachting industry and their studio in Chelmsford is attracting attention from all kinds of businesses, including a publisher of school books, accountancy firms, and the hobbycraft industry.