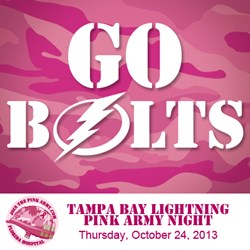 Florida Hospital is leading the way by offering the very latest in screening tools, such as 3D Mammography and life-saving treatments.
(PRWEB) October 24, 2013
October is National Breast Cancer Awareness month and Florida Hospital is officially turning The Tampa Bay Times Forum "pink" as it presents one special night dedicated to enlisting folks in the "Pink Army" declaring war on breast cancer during the Tampa Bay Lightning home game on Thursday, October 24. The puck drops at 7:30pm as The Tampa Bay Lightning "face-off" against the Chicago Blackhawks.
Breast Cancer is the second leading cause of cancer deaths among women, exceeded only by lung cancer according to the American Cancer Society. While one in eight women will be diagnosed with breast cancer in their lifetime, the survival rates are encouraging and continuing to increase. "Because of early detection aided by advancements in imaging, women are surviving breast cancer in increasing numbers and moving forward with their lives. Florida Hospital is leading the way by offering the very latest in screening tools, such as 3D Mammography and life-saving treatments," says Alan J. Schneider, Vice President of Outpatient Services at Florida Hospital Tampa. The Florida Hospital Pink Army is a statewide effort to increase community awareness about early detection and prevention of breast cancer. Today, there are 40,000 soldiers across the state of Florida. By joining the Pink Army, soldiers earn rewards for completing missions, receive special discounts and offers for local businesses available only to Pink Army soldiers and receive email updates on announcements and special community events. During the "Tampa Bay Lightning Pink Army" night, Florida Hospital will educate fans about the importance of getting screened and self-breast exams. The first 5,000 fans to enter the Tampa Bay Times Forum will receive a Pink Army Lightning bandana. Lightning head coach Jon Cooper, along with assistants Rick Bowness, Steve Thomas and George Gwozdecky will wear pink ties in support of Breast Cancer Awareness on Thursday night. Additionally, Sun Sports on-air talent Rick Peckham, Bobby Taylor, Paul Kennedy and Dave Andreychuk will also wear pink ties during the game's telecast. Dr. Charles Cox will be interviewed on Sun Sports about breast cancer awareness and the importance of annual screenings.
"We are thrilled to partner with Florida Hospital again because they are such a renowned organization both locally and nationally," said Steve Griggs, Lightning Chief Operating Officer. "Florida Hospital has such exceptional and reliable medical services, we are proud to team up with them to bring awareness about early detection and prevention of breast cancer research." During the game on Pink Army night, public service announcements recorded by Florida Hospital Breast Care Center surgeons, will air on the scoreboard. Around the concourse there will be literature educating fans on breast cancer awareness tips. Fans will also be able to join the Pink Army and enter to win fun prizes including team autographed Tampa Bay Lightning pink hockey sticks.
About Florida Hospital Tampa Bay Network
The Florida Hospital Tampa Bay Network is a not-for-profit 1,032-bed hospital system composed of Florida Hospital Tampa, Florida Hospital Pepin Heart Institute, Florida Hospital Carrollwood, Florida Hospital at Connerton Long Term Acute Care, Florida Hospital Zephyrhills, Florida Hospital Wesley Chapel and Florida Hospital North Pinellas. Part of the Adventist Health System, Florida Hospital is a leading health network comprised of 23 hospitals throughout the state. For more information, visit http://www.fhtampa.org.
The Pink Army
The Florida Hospital Pink Army is a community effort to increase awareness about early detection and prevention of breast cancer. As a Pink Army solider, each time you complete one of the missions you will move up a rank and be rewarded accordingly. To learn more about how to enlist in the Pink Army and declare war on breast cancer, visit: http://www.JointhePinkArmy.com.
Tampa Bay Sports and Entertainment, LLC
The 2004 Stanley Cup Champion Tampa Bay Lightning and the leasehold rights to the Tampa Bay Times Forum were purchased by an entity controlled by Jeffrey Vinik in March, 2010. Shortly thereafter, Vinik also purchased the Tampa Bay Storm of the Arena Football League. Since acquiring these assets, Vinik has spearheaded a complete brand and business transformation of the teams and the arena under the banner of Tampa Bay Sports and Entertainment, LLC. The Lightning advanced to the Eastern Conference Final of the Stanley Cup Playoffs in 2011 and the Times Forum received a $42 million renovation later that summer. During the summer of 2012, the organization installed a new center-hung scoreboard that is one of the largest of its kinds in North America. Under the new ownership and management group, the fans have responded, more than doubling the team's season ticket base. Additionally, the Lightning sold out 21 of their 24 home games during the 2012-13 regular season.