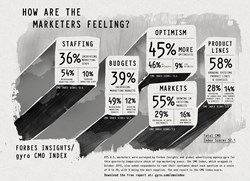 New York (PRWEB) October 24, 2013
Marketers are feeling positive about the next six months, according to the new quarterly Forbes Insights/gyro CMO Index.
The more than 875 U.S. marketers surveyed said they are eyeing budget and staffing increases. At the same time, they are exercising caution when it comes to entering new markets and launching new products. These are some of the findings uncovered by the inaugural Forbes Insights/gyro CMO Index.
Looking ahead at the next six months, 45 percent of marketing executives said they were more optimistic about industry-wide marketing conditions. A similar percentage (46 percent) said they were as optimistic about the future as they are today. Only 9 percent said they were less optimistic about the future.
This quarterly poll, which wrapped in October, also asked respondents to rank their sentiment on a scale of 0 to 20, with 0 being the most negative. The combined CMO Index score regarding marketers' feelings about the next six months was bullish at 13.6.
Compared to six months ago, 39 percent of marketers said they are increasing budgets. Nearly half (49 percent) are maintaining marketing budgets. Only 12 percent are reducing marketing budgets. The CMO Index score regarding budgets is a positive at 12.7.
Staffing also presents a rosy picture. More than half (54 percent) of marketers plan to maintain their existing marketing staff. Thirty-six percent expect to add staff, while 10 percent are looking to cut. The CMO Index score is 12.6.
One area where marketers expressed caution was entering new markets. More than half (55 percent) said they are spending the greatest amount of their time growing existing markets. Twenty-nine percent said they are preparing to enter new markets, while only 16 percent are focused on growing in new markets. The overall score of 7.5 indicates a clear negative sentiment toward entering new markets.
Similarly, the majority (58 percent) was focused on growing existing product lines and services. More than one-quarter (28 percent) are preparing a new launch, while only 14 percent said their priority is launching new product lines or services. With a CMO Index score of 5.8, marketers were least optimistic about launching new product lines.
"CMOs command significant influence over the economy — over $500 billion in marketing spend that drives 15 percent of the U.S. GDP," said Bruce H. Rogers, chief insights officer, Forbes Media. "Forbes Insights is pleased to collaborate with gyro in bringing forth this important, new economic indicator."
"Our new CMO Index presents a clear picture of how hundreds of the top marketers in the U.S. feel. The good news is they feel energized and positive," said Christoph Becker, gyro's CEO and chief creative officer. "There has never been a better time for a brand to find the most humanly relevant way to engage with the world than today."
The Forbes Insights/gyro CMO Index is being unveiled later this week, before an audience of top marketers at the Forbes CMO Summit in Miami. To download a copy of the report, please visit gyro.com/CMOIndex.
###
About gyro
Our mission is to create ideas that are humanly relevant. gyro is an Advertising Age Top 50 global ideas shop with 600 creative minds in 15 offices around the world. Globally gyro works with Abbott, Audi, Deloitte, FedEx, HP, John Deere, Kimberly-Clark, Newell Rubbermaid, SAP, Virgin Atlantic and USG. gyro is Advisor to the Forbes CMO Network. http://www.gyro.com
About Forbes Insights
Forbes Insights is the strategic research practice of Forbes Media, publisher of Forbes magazine and Forbes.com. Taking advantage of a proprietary database of senior-level executives in the Forbes community, Forbes Insights' research covers a wide range of vital business issues, including talent management, marketing, financial benchmarking, risk and regulation, and small to midsize business. http://www.forbes.com/forbesinsights