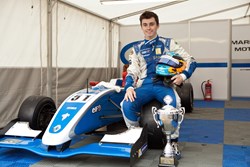 I really am delighted to have our sponsorship package for next year confirmed so early, it means we can now spend some time working on putting together the best possible programme of races.
London, United Kingdom (PRWEB UK) 1 November 2013
Having shown excellent progress in his first season in the Formula Renault 2.0 Northern European Cup (NEC) with the UK-based team, the 19-year-old is currently in the process of working on a full programme of racing for 2014. This is likely to include a return to NEC with possible wildcard outings in the blue riband Eurocup Formula Renault 2.0 series, part of the highly prestigious 'World Series by Renault' package, and also Formula Renault 2.0 Alps.
Next year will also mark the first where Raoul can have sole focus on his burgeoning racing career as, within the next couple of months, he will graduate from his studies at the American International School in Cape Town, South Africa.
"I really am delighted to have our sponsorship package for next year confirmed so early, it means we can now spend some time working on putting together the best possible programme of races," said the Pembury-born driver, "Bright Spark Ventures has given me fantastic support so far in my career, we've certainly enjoyed our best ever season together this year – 2014, I'm sure, will be even better.
"Although the deal with Mark Burdett is still to be fully finalised, I definitely want to stay part of the team as we had a great first season together. We have agreed to continue into 2014, we just need to get the contract signed, so everything is falling into place nicely well in advance of next year."
Raoul added: "We made some really big improvements this season, both with the set-up of the car and my driving, so we're taking a lot of confidence through the winter. With experience of all of the circuits now, I'm sure we'll have the potential to have a strong second year in Europe."
Approaches from several top teams have already been made but having built strong relationships at Mark Burdett, notably with race engineer Andy Miller, former Operations Director at Formula One team Stewart Grand Prix in the late 1990s, and driver coach Robbie Kerr, the 2002 British Formula 3 Champion, Raoul is relishing the prospect of remaining an integral part of the Lincolnshire squad.
Speaking on the agreement, team principal Mark Burdett commented: "We had a really good second half of the season with Raoul, we achieved a lot in a short space of time and it's been fantastic for all of us. Raoul has worked really well in the team, he's been developing his driving with Robbie [Kerr] and has been working really closely with Andy [Miller] on set-up.
"I'm really looking forward to next year, we need to build on the foundations from this season and concentrate on putting together a proper structured testing programme to prepare as well as we possibly can. Hopefully we can bring in one or two strong team-mates to help push Raoul on too."
In his maiden year in Formula Renault 2.0 NEC, Raoul progressed markedly throughout the season which he concluded a highly creditable ninth in the overall standings – the sixth highest placed of the NEC regulars.
Claiming his first podium at Belgium's Spa-Francorchamps in July with a superb drive, the teenager was unlucky to miss out on additional rostrum silverware during the remainder of the campaign. For the most part, though, he was a consistent top six challenger during the second half of the year.
Last weekend, 19th/20th October, Raoul took the opportunity to gain experience of the Circuit de Catalunya in Spain by contesting the final two rounds of the 'World Series by Renault' Eurocup Formula Renault 2.0 with Mark Burdett Motorsport.
On his first outing at the Barcelona track, he gave a good account of himself as a wildcard with a best finish of 16th place out of 34 competitors in race one and 18th position in race two, despite only completing one test session owing to World Series by Renault regulations.
Note to editors: Copyright free images of Raoul Owens attached for editorial use; please credit Chris Schotanus/Essay Produkties where used
Website: For more information please visit http://www.raoulowens.com
Twitter: @raoul_owens
Facebook: RaoulOwensRacing
Media Contact:
Marc Orme
Tel: +44 (0)7920 886985
Email: marc(at)marc-orme(dot)co(dot)uk / marcorme1(at)aol(dot)com