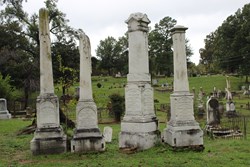 Oakland Cemetery has been the resting place to Shreveport's pioneers for nearly two centuries.
Shreveport-Bossier, LA (PRWEB) October 25, 2013
Celebrate the changing of the seasons at the newly-reconstructed Oakland Cemetery and enjoy the first-ever Oakland Cemetery Fall Festival complete with music, art and theatrical performances in Northwest Louisiana's most important historical landmark and Shreveport's oldest garden cemetery, Sunday, Nov. 3 from 1-4 p.m. The cost to attend is a $5 donation for adults. Children are free.
Located on the western edge of Shreveport's business district and steps away from the Municipal Auditorium, home to the once-popular Louisiana Hayride - Oakland Cemetery has been the resting place to Shreveport's pioneers for almost two centuries. The oldest marked burial bare a death date of 1842.
The fall festival is an event for locals and visitors. Live music will create the mood with Prevailing Winds Orchestra on one side of the park and Airheart on the other. Watch artist Pamela Viviano McDonald create art from pastels capturing the beauty of the surrounding cemetery and unique headstones. Kids will enjoy making their own creative artworks with Jerry Davenport, a popular local arts educator. Local historian Jan Pettiet of "Yesterday's Lady" will enlighten attendees on Shreveport's historic beginnings with several tours throughout the afternoon.
Also, theatrical re-enactments will introduce you to a few of the cemetery's current inhabitants, performed by Ginger Folmer, Sloan Folmer and Lee Marvin Adams. If you don't have time to make your own picnic lunch, order a lunch from Wine Country Bistro for $15 in advance. Orders can be made at http://oaklandcemetery.eventbrite.com/.
These efforts support an ongoing preservation of the region's oldest garden cemetery. Some of the new features include: a new main road through the center of the cemetery; paved walkways over the original streets; an upgraded security fence; installation of a water system for landscaping; and creating a handicapped parking area.
Catch a glimpse of the cemetery in the opening of the Shreveport Municipal Auditorium: Haunting's video.
The cemetery is located at 1000 Milam St. in downtown Shreveport adjacent to the Municipal Auditorium. For more information about the cemetery and future events there, visit http://www.oaklandcemeteryla.org.