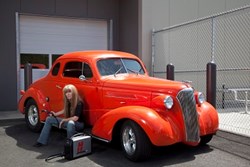 Hanover, NH (PRWEB) October 25, 2013
Hypertherm, a U.S. based manufacturer of advanced metal cutting systems, today announced a number of educational programs at the 2013 SEMA Show. This year's show which takes place November 5-8 is the largest automotive specialty show in the world, filling more than a million square feet at the Las Vegas Convention Center.
Hypertherm experts Jim Colt and Michael Vanvakaris, along with custom fabricator and painter JoAnn Bortles, will use Hypertherm Powermax plasma cutting and gouging systems to teach show attendees how to:

Remove spot welds and rivet heads more quickly and easily
Cut rusted, painted, and dirty metal
Use CNC plasma to create needed parts
Easily cut odd shaped pieces out of metal
Make holes for dash gauges
Gouge out old welds
The sessions will take place throughout the show from Hypertherm's booth (#25067) In the Central Hall. In addition to the above topics available to all show attendees, Hypertherm is planning two exclusive events for automotive media.
Media actively tweeting and blogging during the show are invited to join Hypertherm for the Plasma Top 10. Hypertherm will demonstrate some of the best plasma tips and tricks in the automotive business for any fabrication, rebuild or restoration project. Media can learn about cutting alloys, stack cutting, tube fabrication, removing rusted floorboards and trunk pans, template cutting, CNC integration and more. Interested media will also have the opportunity to try plasma cutting and gouging themselves and speak to the Hypertherm team.
The second events takes place Wednesday November 6 at 9 a.m. when Hypertherm presents "The Great Gouge Off". JoAnn Bortles and Michael Vanvakaris square off for the title of fastest gouger in the west by competing to see who can remove spot welds the fastest. Media will also have the opportunity to talk to JoAnn about the debut of her 1967 Firebird rebuild project, fabricated with plasma, and on display in the Dynacorn booth.
Hypertherm designs and manufactures advanced cutting products for use in a variety of industries such as shipbuilding, manufacturing, and automotive repair. Its product line includes handheld and mechanized plasma systems and consumables, as well as fiber laser and waterjet products, in addition to CNC motion and height controls and CAM cutting software. Hypertherm systems are trusted for performance and reliability that result in increased productivity and profitability for hundreds of thousands of businesses. The New Hampshire based company's reputation for cutting innovation dates back more than 40 years, to 1968, with Hypertherm's invention of water injection plasma cutting. The associate owned company, consistently named one of the best places to work in America, has more than 1,300 associates along with operations and partner representation worldwide. On the web at http://www.hypertherm.com.