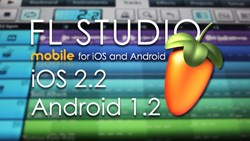 Free Update for Existing Customers
(PRWEB) October 26, 2013
FL Studio Mobile HD will allow users to create complete multi-track projects on Android devices (2.3 or higher) or iOS devices (iPod touch, iPhone & iPad). FL Studio Mobile projects can also be loaded in FL Studio for Windows and be taken to the next level if users desire.
What's new for the FL Studio Mobile Android 1.2 release?

HD graphics for 1080p and 720p devices (removes side bars)
Sequencer timing accuracy significantly improved
Fixes various expansion file download and mounting errors
Fixes wrong sample mapping after zip instrument import
Minor other bug fixes and performance improvements
What's new for the FL Studio Mobile 2.2 iOS release?
New features:
MIDI start/stop slave and master
Input gain slider in the recording window (visible with external mic connected)
AudioCopy 2.0 support (iOS 7 compatible)
WAV export option to write 1 file per track
Performance & speed:
Major performance improvements (play more tracks without audio dropouts)
Audio file editing is up to 5x faster
Reverb quality and performance improved
Other improvements:
Audio recordings are placed more accurately
Setup latency options removed, it's now always at minimum
Filenames can now contain non-latin characters
Inbox folder is no longer present, files are moved to the top level folder
.flml (drum loop) files can be opened from other apps like Mail or Safari
Overall stability greatly improved
Abou FL Studio Mobile 1.2 for Android vs FL Studio Mobile 2.2 for iOS
The feature-set of the Android and iOS versions will be harmonized in future updates, including the addition of the following features to the Android version:

Audio tracks and wave editor
Background audio (playback while the app runs in the background)
In-app shop
While projects, .flm format, are compatible between Android and iOS, if audio tracks are present they are ignored. If instruments are not available the MIDI data is loaded and the a default instrument is used.
Pricing
Android: $19.55 USD
iOS: FL Mobile HD (universal app): $19.99 USD
ABOUT IMAGE-LINE SOFTWARE
Established in 1994, Image Line Software provides high quality music applications to the computer-based music community and is well-known for its leading digital audio workstation FL Studio (formerly FruityLoops), FL Studio Mobile for Android and iOS; high-quality synthesizers including Autogun, DirectWave, Drumaxx, Groove Machine, Harmless, Harmor, Morphine, Ogun, Poizone, Sakura, Sawer, Slicex, Sytrus and Toxic Biohazard. Innovative effect plugins including Gross Beat, Hardcore, Maximus, PitCher & Vocodex; and finally, a wide range of sample libraries used in their multi-sampler plugins DirectWave and Soundfont Player. Image-Line also produces the acclaimed DJ mixing software application Deckadance. In addition to its audio software, Image Line Software develops and distributes the web site building application, EZGenerator.
For more information, please contact:
Scott Fisher, Communications Manager
Image Line Software
E-mail: press(at)image-line(dot)com