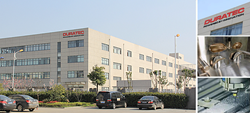 We are here to assure your complete satisfaction and customer's delight in our premium quality products.
(PRWEB) October 25, 2013
DuratecPlastics.com, a renowned China injection molding company, has recently released its new products to its customers around the world. According to Steven, a senior spokesman of the company, the newly released items are especially offered to expand the American market.
"We are glad to announce the new range of products. This collection includes various kinds of plastic injection moldings. You can find the detailed information at our website. In addition, these items are now provided at big discounts, up to 35% off. Those who are interested in our products should visit our online shop as soon as possible," says the CEO.
DuratecPlastics.com has updated its website to offer the latest information about its molding products, as well as injection molding technologies, to clients worldwide. It serves both local and overseas customers. The products from the company can be widely used in many industries, such as machinery, hardware, electronics, toys, consumer goods, medical instrument and so on.
All products from DuratecPlastics.com are of top quality. It is famous for its extensive experience, unsurpassed technology, and stringent quality control system. The company has a team of experienced engineers and qualified workers. It also has CNC, EDM, grinding, wire cutting, milling machines and many other advanced types of equipment.
About DuratecPlastics.com
DuratecPlastics.com is the website owned by Duratec Industries Ltd. That specializes in plastic injection molding and plastic product assembly. The business is located in Suzhou, which is a major tourist city in China and is considered as beautiful as the paradise. The company owns a modern manufacturing and warehousing facility as large as over 12,000 square meters.
More details at http://www.duratecplastics.com/