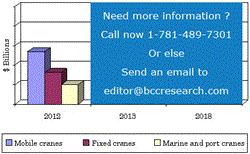 Wellesley, MA (PRWEB) October 28, 2013
According to a new technical market research report, Cranes: Technologies and Global Markets from BCC Research (http://www.bccresearch.com), the global market for cranes was valued at $26.6 billion in 2012 and is expected to reach $29.3 billion in 2013. BCC Research projects the market to grow to $41 billion by 2018, and register a five-year compound annual growth rate (CAGR) of 6.9% from 2013 to 2018.
Cranes are an integral part of the global material lifting equipment industry. With the increase in infrastructure development in the emerging markets, global demand for cranes has also grown considerably over the last five to 10 years. In particular, China has seen the greatest growth among the developing economies and has become the largest market for cranes.
To assess the market, cranes have been broadly classified into three major types: mobile cranes, marine and port cranes, and fixed cranes. Cranes vary according to their lifting capacity, outreach and, height. Current market trends include a focus toward higher lifting capacity. Complexities in infrastructure demands have necessitated greater flexibility from material lifting equipment. In addition, the market is focusing on "greener" fleets, advanced automation technology, and fuel efficiency.
China has seen the greatest growth among the developing economies and has become the largest market for cranes. While demand for modern infrastructure is being created in highly populated developing economies, in the Western world major projects that were put on hold due to the economic downturn have now slowly begun to resume. This will affect the dynamics of the crane market, which is a part of the global construction and material lifting equipment market. Global infrastructure and construction growth and increasing demand in emerging markets, as well as positive developments on the global trade front will drive growth in this market for the foreseeable future.
This report from BCC Research provides a comprehensive overview of the global market for cranes. It breaks down cranes into three major types as well as subtypes, regional markets, and major players in each of these submarkets. This study also analyzes revenue forecasts from 2013 to 2018 for each of these market segments and sub-segments. It also discusses major players across each of the sub-segments within each of the markets; explains the major market drivers of the global crane industry, current trends within the industry, and major end-user industries within the global crane market. This report concludes with a special focus on China, the largest crane market. It covers the growth in the crane industry in the Chinese market, discusses the major players in that market, and the major drivers, trends, and end-user industries.
This report is intended especially for manufacturers, suppliers, end users, and others with a vital interest in specific crane equipment and market segments. It will also be of interest to industries such as construction, infrastructure, energy, automotive, heavy metal, and mining. In addition, because of this report's business focus, it will be useful to sales executives and business managers as an up-to-date guide that includes the challenges, drivers, and trends that are expected to be significant factors in the current and future market.