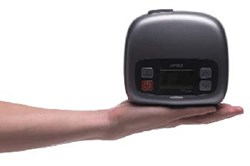 It's so small and quiet you won't know you are receiving treatment.
Houston, Texas (PRWEB) October 28, 2013
Sleep Restfully, Inc. has entered into an agreement with Apex Medical Corp. to sell the newly designed XT Fit CPAP Machine directly to people suffering from sleep apnea. For many years, this outstanding, small and quiet CPAP Machine has been sold by PMI Probasis under the trade name ZZZ-PAP and by CareFusion under the trade name Puresom CPAP. Today, it is only available through Apex Medical Corp. who Sleep Restfully, Inc. is pleased to be partnering with.
The XT Fit CPAP Machine is a small portable CPAP system which provides performance and value in an extremely small size. It features the illuminated, menu-driven LCD display, universal power supply, stable pressure output, and ultra-quiet operation. Its compact size with these user-friendly features make the XT Fit CPAP Machine the best choice for the value seeking OSA patient.
Charles Goldberg, President of Sleep Restfully, Inc. said, "We are extremely excited to be able to offer this great value added CPAP Machine to the public. I have personally used this CPAP Machine for the past 4 years as my travel machine and would recommend it to anyone who wants a small quality machine either for travel, as a second machine or as their primary CPAP machine. It is quality from top to bottom."
Sleep Restfully, Inc. is introducing the XT Fit CPAP Machine for $189.00 and the XT Fit CPAP Machine with Heated Humidifier for $289.00 and as always shipping is free on all orders $99.00 and above. The XT Fit will begin shipping by the end of November 2013 and is available for pre-order now. As an introductory special enter the Promo Code: APEX on the checkout page to receive $10.00 off the purchase of the XT Fit CPAP Machine. At the discounted cost of $179.00, this quality CPAP Machine will cost less than many CPAP Mask currently available. This additional $10.00 discount is only available till December 1, 2013.
Sleep Restfully, Inc. places customer service and satisfaction as its highest priority to sleep therapy and oxygen customers. Sleep Restfully, Inc. believes that they are second to none in customer service, which is reflected in their decades of experience and their Better Business rating of "A." Sleep Restfully carries a complete line of sleep therapy supplies and equipment from the best manufacturers in the industry, such as ResMed, Philips Respironics, Fisher & Paykel, and others. In addition to CPAP machines and supplies, Sleep Restfully specializes and carries Portable Oxygen Concentrators. Sleep Restfully offers the best support and prices on portable oxygen concentrators such as the Respironics SimplyGo, AirSep Focus & FreeStyle, Sequel Eclipse 5, Inogen One G3, Invacare XPO2, and more. Stationary oxygen concentrators are also carried, such as the Respironics EverFlo and Invacare Perfecto.
Sleep Restfully stocks all replacement parts for CPAP machines, CPAP masks, and portable oxygen concentrators.
Contact Sleep Restfully, Inc. today toll free at (866) 923-2727 or by visiting http://www.sleeprestfully.com.