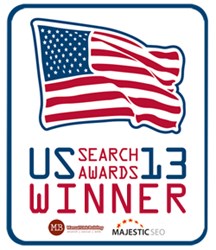 We are honored to accept the award for Best SEO campaign.
San Francisco, CA (PRWEB) October 28, 2013
The US Search Awards, working in conjunction with Pubcon Las Vegas, recently recognized the very best in search engine marketing at their inaugural event in Las Vegas, Nevada. Recognizing companies and individuals across twenty-three categories in total, the event culminated in the announcement of the Best SEO Campaign for 2013, which was awarded to Geary LSF.
"We are honored to accept the award for Best SEO Campaign for our work on the MegaPath brand website consolidation project," said Geary LSF Senior Director of SEO, Ramsay Crooks. While the presenter of the award called it a 'tough fought campaign win', Geary LSF's ability to deliver a complete site migration for a major web-based client perfectly, secured the agency's win. "Our team works diligently on every project that comes our way and we take pride in what we do. We're grateful for the opportunity to share our techniques with the industry and for the recognition we humbly accept in conjunction with our client, MegaPath."
While Geary LSF is a full-service digital advertising agency helping brands engage with consumers across all digital touch points, search engine optimization has always been a cornerstone of the business. The dedicated team of SEO experts keeps a thumb on the pulse of the industry, is quick to adapt to the every-changing landscape and is readily available to clients in order to educate and ensure top-notch client service.
"The consolidation of our three major websites, each with unique characteristics, traffic & SEO complexities, was a must in order to preserve the substantial legacy natural search volume and brand equity. This was deemed a critical component of the campaign," says Randy Laub, Vice President of Online & Acquisition Marketing at MegaPath. "Our partnership with Geary LSF, their understanding of our marketing goals, and the collaboration of our teams resulted in the outstanding execution of this award-winning campaign."
Judging for the US Search Awards took place in September 2013, and was conducted by a notable list of sixteen industry experts. View the list of judges here. For a complete list of winners and to learn more about the prestigious US Search Awards, visit their website at http://www.ussearchawards.com/winners.htm.
About Geary LSF Group
Geary LSF is an integrated full-service online marketing group that delivers more results per campaign by uniquely optimizing the digital customer engagement path. It provides advertisers with comprehensive services all under one roof: from Strategy to Development, Media Planning to Placement, SEO, SEM, Analytics, Social, Local and Mobile media services. Headquartered in San Francisco, California, the 240-people strong Geary LSF Group has offices on two continents and manages campaigns for more than 450 brands worldwide including WD-40, Bumble Bee Foods, MegaPath, Aramark, Ashley Furniture, Target, Club Med and several others. For more information, please visit http://www.gearylsf.com/.