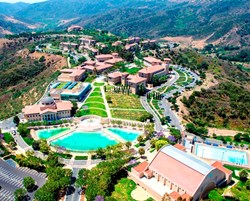 100% of undergraduates study abroad for a semester during their junior year.
Aliso Viejo, CA (PRWEB) October 27, 2013
How does a 12-year old liberal arts college with about 450 students get ranked in the Top 50 National Liberal Arts Colleges by US News & World Report's "Best Colleges 2014?"
The answer is all in the numbers US News put together for Soka University:
41st - Best National Liberal Arts Colleges (Top 50 Nationally and Top 7 on the West Coast)
1st - Faculty resources
2nd - Financial resources
5th - Ethnic Diversity among National Liberal Arts Colleges
1st - Foreign Student Factor among National Liberal Arts Colleges – 39%
5th - Great Schools at Great Prices (Best Value among National Liberal Arts Colleges)
Here are a few more numbers that went into that ranking:
* 9:1 Student/Faculty ratio
* Average class size of 12
* 95% first year retention rate
* 92% graduation rate
*100% of undergraduates study abroad for a semester during their junior year
* 50% of the last three incoming classes was on full tuition scholarships because their family's annual
income was under $60,000
* 98% of all students receive some form of financial aid
* SUA's undergraduate students received $11.98 million dollars in total grants and scholarships last year
How does a little college whose first alumni graduated in 2005, and which received its WASC accreditation that same year, do it? The answer lies in a strong faculty and staff, high achieving students, the tremendous support that the university receives from its founding organization, SGI, a lay Buddhist organization with members in over 190 countries – and in thousands of individual donors from around the world.
Soka University (SUA) is a private, four-year liberal arts college and graduate school (they just announced a new Master's program in Educational Leadership and Societal Change starting Fall 2014) located on 103-acres in the southern tip of Aliso Viejo – overlooking the 4,000 acre Aliso and Wood Canyons Wilderness park on about 80% of its border.
"I'm very proud of the fact that Soka University attracts top students of all nationalities and beliefs," explains SUA president Daniel Habuki (just "Danny" to all students, faculty and staff.) "The average GPA of our admitted students is 3.85 -- and we also look at motivation and leadership. Our students, staff and faculty represent many diverse backgrounds and religions and about 40% of our students have come from over 40 other countries. Our mission is to foster a steady stream of global citizens committed to living a contributive life…people who will give back to their communities and make this world a better place."
The numbers that warm Dr. Habuki's heart include the fact that almost every SUA graduate who has applied to graduate school has been accepted…and his grads have gone on to Harvard, Yale, Johns Hopkins, UC Berkeley, Oxford, Stanford, USC, UCLA and other top colleges around the world.
The other number that makes Soka University rather extraordinary is its number of majors: ONE.
Every student is a Liberal Arts major – with a choice of concentrations in Environmental Studies, Humanities, International Studies or Social and Behavioral Sciences. So what kind of grad school can a Liberal Arts major from SUA get into? How about Statistics at Stanford, Economics at UC Berkeley, Urban Planning at UCI, Music at Oxford, Public Health at Columbia, Screen Writing at Boston University, International Education Policy at Harvard, Law School at Washington & Lee or the MBA program at Johns Hopkins? It turns out that a diversified Liberal Arts degree (custom tailored by each student with the help of an academic advisor) can get you a lot of places.
Perhaps you're wondering what kind of employers have hired graduates right out of school with a BA in Liberal Arts from Soka University? You might say it's all over the map: TriVista in Aliso Viejo; Deloitte in Singapore; NCR in Tokyo; the Belgian Embassy; International Organization for Migration Project in Ethiopia; Peace Corps in Uganda and Nigeria; Teach for America, and Goldman Sachs in Hong Kong – just to name a few.
Soka University…it's all in the numbers…and the bright, talented multi-lingual graduates who are helping to push their alma mater to the top of the ranks. http://www.soka.edu