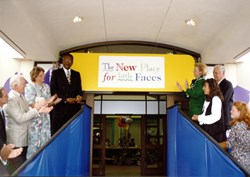 Loma Linda, CA (PRWEB) October 28, 2013
Children of all ages and their families are invited to take part in a free outdoor family movie, games, and a fireworks finale on Sunday, Nov. 10, to celebrate the 20th anniversary of Loma Linda University Children's Hospital.
The festivities, open and no cost to the public, will be held from 4 p.m. to 8 p.m. at the Loma Linda University Medical Center Lawn, 11234 Anderson Street, Loma Linda, Calif. 92354. Participants are encouraged to bring blankets, chairs, and a picnic basket to watch the family movie at 6 p.m.
"It's hard to believe that it's been 20 years since our region has been blessed by the opening of Loma Linda University Children's Hospital," LLUCH Administrator Zareh Sarrafian said.
"Over the last two decades, our hospital has had a tremendous impact on the lives and health care of our children. On behalf of our doctors, nurses, and staff, I would like to thank all our patients, families, and supporters for entrusting us to provide world-class care to the most precious people in our lives," he said.
Among the activities in store for the event include hot air balloon rides, exhibits, and a petting zoo. Wholesome food will be offered for sale by food vendors.
LLUCH opened 20 years ago as the only facility of its kind in the Inland Empire, with 275 beds and one of the world's largest newborn intensive care units. Cost of building the hospital was $36 million.
Since then, LLUCH has developed into a leading medical center focused on the health of the smallest, most vulnerable, and sickest patients. Now with 348 beds, it remains the only dedicated children's hospital in a four-county region – Riverside, San Bernardino, Mono, and Inyo counties – with a population of about 4.5 million.
LLUCH has pioneered and continues to lead in the area of infant heart transplantation, and has received acclaim for its many programs to treat pediatric patients, including proton treatment for cancer, trauma care, physical rehabilitation, intensive and acute care, and organ transplants.
Photo Caption: Loma Linda University Children's Hospital will celebrate its 20th anniversary next month. In this file photo from 1993, Calvin Rock, then-chairman of the board of trustees of Loma Linda University Medical Center, and then-California First Lady Gayle Wilson (both in the center) unveil the sign over the entrance to the new Loma Linda University Children's Hospital. Watching are (from left): Dr. John W. Mace (partly hidden), medical director; Dr. Leonard L. Bailey, surgeon-in-chief; B. Lyn Behrens, president, Loma Linda University; David B. Hinshaw, Sr., president, Loma Linda University Medical Center; Alma Morino, heart transplant patient; and Lena Jordan, surgery patient.
About Loma Linda University Children's Hospital - LLUCH
Loma Linda University Children's Hospital is the only dedicated pediatric hospital in the vast geographic region of San Bernardino, Riverside, Inyo and Mono counties. With 348 beds dedicated just for kids, one of the largest Neonatal Intensive Care Units (NICU) in the country, and more than 100,000 children who come each year, LLUCH is a major pediatric teaching facility, known worldwide as the pioneer of neonatal heart transplantation. LLUCH is part of Loma Linda University Health (LLUH), the umbrella organization encompassing Loma Linda University's eight professional schools, Loma Linda University Medical Center's six hospitals, and more than 900 faculty physicians located across the Inland Empire in Southern California. A Seventh-day Adventist organization, LLUH is a faith-based health system with a mission "to continue the teaching and healing ministry of Jesus Christ."