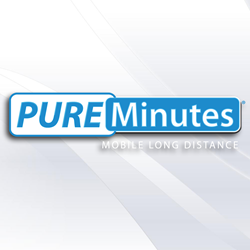 We are excited to meet with those looking for an opportunity to add value to their business and are looking for ways to provide their core constituents with a service to stay in touch with family
New York, NY (PRWEB) October 29, 2013
Pure Minutes is proud to announce that it will be on hand at the International Multimedia Telecommunications Consortium (link) this year held at the Eden Roc Hotel in beautiful Miami Beach, Florida. The Eight Annual IMTC is one the largest gathering of money transfer companies, telecommunications corporations, and government agencies in the world and Pure Minutes is proud to be a Gold Sponsor at the event.
Pure Minutes (link) is a mobile long-distance service that provides a low-cost calling solution that works with any phone number. Pure Minutes provides international long-distance that's as simple as picking up the phone and works across carriers anywhere around the world. This means that a user can enjoy the benefits of low international rates without needing to change their current landline or mobile cell phone service provider.
The revolutionary Pure Minutes system instantly recognizes subscribers through an automatic caller identification which eliminates the need for complicated PIN numbers typically found on calling cards. In fact, Pure Minutes has eliminated the need for calling cards altogether. Topping up the minutes has never been easier using any of the convenient recharge locations around the world or online with any major credit card, cash, or a paypal account.
Eric Ramos, President of Pure Minutes shared "We are excited to meet with those looking for an opportunity to add value to their business and are looking for ways to provide their core constituents with a service to stay in touch with family." Chris Sander, Senior Account Executive added "We look forward to re-connecting with current partners along with meeting new companies who share the same passion and respect for their customers as we do."
Pure Minutes will be at Booth #G4 at the Eden Roc Hotel in Miami Beach, Florida for the IMTC Miami 2013 Conference on November 4th-7th.
About Pure Minutes
Pure Minutes is a leading provider of prepaid international long-distance calling solutions. We provide an affordable communication solution that offers flexibility, portability and ease-of-use for both landline and mobile users. Pure Minutes offers competitive international calling worldwide with no hidden fees, no maintenance fees, no contract required, and minutes that never expire. Pure Minutes service is sold on the web and through regional and national retailers including MoneyGram, La Nacional and payXchange and is available to customers worldwide in English and in Spanish and accepts payments through all major credit cards and Paypal.
Follow us on Twitter (@PUREMinutes), Facebook (facebook.com/PUREMinutes), and LinkedIn (PUREMinutes, LLC) for up to the minute updates.