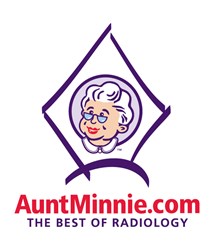 This year's Minnies winners highlight the continuing importance of CT to radiology.
Tucson, AZ (PRWEB) October 30, 2013
Radiology portal AuntMinnie.com today announced the winners of the 2013 edition of the Minnies, an annual event recognizing excellence in medical imaging.
Now in their 14th year, the Minnies awards provide a forum for radiology professionals to acknowledge the contributions of their peers to the field of medical imaging. Minnies candidates are nominated by AuntMinnie.com members and selected by a panel of experts in the field through two rounds of voting.
This year's Minnies winners highlight the continuing importance of CT to radiology, with nearly a half-dozen of the 15 winners pertaining to this area of medical imaging. The increasing power of CT scanners is making new clinical indications such as coronary CT angiography possible, but it is also creating challenges such as the need to manage radiation dose more effectively.
The 15 Minnies categories range from Most Influential Radiology Researcher to Best New Radiology Device. The 2013 edition of the awards includes two new categories: Best Radiology Mobile App and Best Radiology Image, with the latter selected by voting on AuntMinnie.com's Facebook page.
The 15 categories are as follows:
Most Influential Radiology Researcher
Most Effective Radiology Educator
Most Effective Radiologic Technologist Educator
Most Effective Radiology Administrator/Manager
Best Radiologist Training Program
Best Radiologic Technologist Training Program
Most Significant News Event in Radiology
Biggest Threat to Radiology
Hottest Clinical Procedure
Scientific Paper of the Year
Best New Radiology Device
Best New Radiology Software
Best New Radiology Vendor
Best Radiology Mobile App
Best Radiology Image
The full list of Minnies winners can be viewed by clicking here or visiting minnies.auntminnie.com.
About AuntMinnie.com
AuntMinnie.com is the premier online information, transaction, and education site for all individuals affiliated with the medical imaging market. Rich in timely, original content and customer-centered products and services, AuntMinnie.com is designed to enhance the professional lives of its members through interaction, participation, exchange, and commerce. AuntMinnie.com is owned by IMV, Ltd. Additional information on AuntMinnie.com is available at http://www.auntminnie.com.