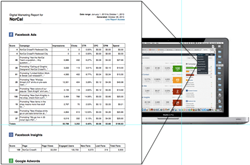 ... A comprehensive suite of analytics and reporting tools which merge digital and social marketing into one easy-to-use platform.
Cupertino, CA (PRWEB) October 29, 2013
TapClicks, the digital presence company, today unveiled the 3.2 version of its TapClicks Marketing Analytics Platform, the new industry standard for digital marketing analytics and campaign performance dashboards.
The new TapClicks 3.2 platform adds significant functionality to the currently available TapClicks platform for digital agencies and marketers. Among the enhancements are:

User configurability in html data tables and printed reports in html and pdf
Added UTF-8 character sets to support international customers, including Hebrew
New connectors to important digital marketing services, such as YouTube
Google AdWords score enhancement, reflecting important metrics such as Average Position
User configurable white-label capability
… plus many other important changes to better support the world of digital marketing.
The TapClicks Cloud Marketing Analytics Platform quickly connects and caches performance metrics from Google Analytics, Google and Bing SEM campaigns, Facebook, Twitter, SEO tools and email-newsletter platforms, to name just a few. Digital agencies and enterprise marketers use the TapClicks Analytics Platform to report performance of their clients' outbound marketing efforts at the website, campaign, creative, and keyword levels. The TapClicks Analytics Platform gives them the ability to compile client reports, schedule formatted reports to be sent to clients by email on a regular basis, give their clients access to their own sets of dashboards, and much more.
"The user configurable nature of TapClicks 3.2 clearly takes the product to a new level of sophistication in satisfying our agency- and enterprise-customer needs," said Babak Hedayati, CEO of TapClicks. "This brings us a big step closer to our target -- a comprehensive suite of analytics and reporting tools which merge digital and social marketing in one easy-to-use platform."
About TapClicks:
TapClicks provides digital marketing solutions and performance analytics tools for its clients. Founded in 2009, TapClicks operates out of offices in Silicon Valley, Canada, India and Mexico.
For more information, please visit http://www.TapClicks.com, call our offices +1.408.725.2942 or send us an email at info(at)TapClicks(dot)com.