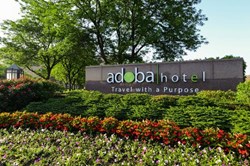 Gone are the days when environmental practices and corporate responsibility were just an option.
Dearborn, MI (PRWEB) October 30, 2013
Adoba® Hotel Dearborn is announcing a new room type offering to guests looking to create a better customer experience through focus on sustainability and corporate responsibility. Adoba is proud to announce it now offers 10 allergy-friendly guestrooms from PURE Solutions, which reflect Adoba's emphasis on wellness and healthy travel.
PURE Rooms are treated according to a patented 7-step process that kills and protects against 99.9% of viruses and bacteria. By virtually eliminating surface and airborne irritants, PURE Rooms create a truly hypoallergenic space that is not only more comfortable for allergy-sufferers, but also more refreshing and rejuvenating for all hotel guests.
In offering these rooms at its Dearborn property, the Adoba® Brand continues to strive to improve its eco-friendly programs.
"Gone are the days when environmental practices and corporate responsibility were just an option," said Adrienne Pumphrey, Global Head of Adoba®. "We make these vital practices part of our daily business."
Pumphrey believes that PURE Rooms adhere to Adoba's core values, describing them as a "new, eco-smart, healthy option for travelers" that enhances the company's strong health and wellness offerings.
Since Adoba's launch three years ago, the brand has made strong commitments to environmental action and innovation in the areas of technology and operations efficiency. From their highly engaged eco-friendly associates and biodegradable amenities all the way down to organic food options and recycled meeting room notepads, Adoba® is setting a new standard for environmentally friendly hotels nationwide.
"Adoba® is a name that is synonymous with green and healthy travel," said Brian Brault, CEO of PURE Solutions. "This makes our partnership an ideal alignment, reflecting our shared values of wellness, quality and socially responsible initiatives."
For both Adoba® and PURE Solutions, it seems that the health of the environment and the individual traveler go hand-in-hand.
About Atmosphere Hospitality Management Services
Denver-based Atmosphere Hospitality Management Services owner of the Adoba® Eco Hotel Brand is a progressive, innovative hotel management company. Founded in 2010, Atmosphere Hospitality Management has experience managing all recognized national branded properties, restaurants and independent resorts. Atmosphere Hospitality Management has a significant head start as the hotel management company synonymous with green hotel design, construction and sustainable profitable practices.
About PURE Solutions
PURE Solutions' innovative system for hotels and conference centers create PURE Rooms, an allergy-friendly indoor environment that has been treated to remove up to 99% of bacteria and viruses. The PURE Room concept utilizes state-of-the-art purification techniques whereby each room is treated comprehensively to remove allergens and irritants from all surfaces, fabrics and air. Over 300 of the nation's top hotels have installed PURE Rooms to date and this system is being adopted at a rapid rate by hotels worldwide. Pure Solutions received the 2008 Innovator Award from The School of Hotel Administration at Cornell University. For further information, please visit http://www.pureroom.com.