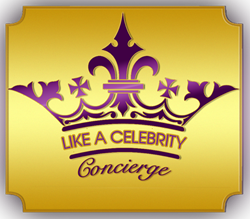 1 in 8 women will develop breast cancer at some point in her life. We feel obligated to help in any way we can. It affects us all. - Latisha Kenya Murray
New York, NY (PRWEB) October 29, 2013
The countdown to the shopping party with a purpose is underway as the list of socially conscious sponsors, tastemakers, and celebrities continues to grow.
Prestigious names in beauty, health and wellness, entertainment, fashion and media are signing on to be a part of this year's pink carpet in support of the #Shopforacure shopping soiree, benefiting the Breast Cancer Research Foundation.
Special Guests Include Top Names Like:
•Famed R&B Singer Monifah + Her Fiancee, Terez - TV One, R&B Divas
•Ms. Drama - VH1, MsDramaTV.com + Sirius Satellite Radio
•Exetta Harris - Rag + Bone
Socially Conscious Sponsors + Product Donors Include:
•Copia NYC - @CopiaNYC
•Velvet Lattimore, Founder of Vedazzling Accessories - @VedazzlingAc
•Tanya Brown, Designer/Founder of Lauren St. Julian - @LaurenStjulianJ
•Edward Jackowski, Founder + CEO of Exude Fitness - @ExudeFitness
•Pete Whitfield, Founder of High Profile Transportation - @PtyWhitfield
•Durrell Leak, Founder of Brooklyn 360 - @Leakology
•Rajaram Patel
•Amy Aversa, Chef + Creative Director, Sweet Basil Catering - @SweetBasilNYC
•Ariana Rabinovitch, Yoga Teacher + Movement Educator - @ArianaRabs
•Shani + Joel Delamor, Founders of Appetite for Seduction - @ShaniDelamor
•Jessica Roscetti, Founder of Blaze Beauty + Special FX - @Jae3788
•Raxann Chin, Couture Fashion Designer - @Femheka
•Caitlin Kelly - Swinwear Designer - @CaitlinKellySW
•D.D. Hayes, OrganoGold, DeeDeesCoffeeCafe.OrganoGold.com
•Yvonne Forbes, Founder of LabellelaDiva Enterprises - @MsDivaDazz
•The Boxing Diva Inc - @FireandStarFace
•Beverley Love, Owner, NYC Urban Foot Tours LLC
•Rico Robb, Chingaling Brand Products - Facebook.com/chingalingus
•Dr. Farnoz Jamshidi
•E.R.E.N.A Hair Care Centers - @ErenaHairCenter
•Glenys Cepeda - Fashion Designer - ModaDsign.com
•Arla Sheinwald, Owner + CEO, Luxurious & Divine, Ltd.
•Nia 24- Niacin Powered Skin Therapy, Nia24.com
•Mel + Mo, Creators of LovePotion214 - @LovePotion214
•Michael Olivarri Art - Facebook.com/pages/Olivarri-Art/233443560117775
•AHAVA - Dead Sea Mineral Skincare, AhavaUS.com
•SkinPhD - Beyond Beauty and Skin, SkinPhD.com
•Jordan Gelber, Founder of Starbaby Enterprises - @StarbabyEntNYC
•Qiana L. Williams, Founder of Writings of the Goddess PR - @Qianathegoddess
•Latisha Kenya, Founder of Like a Celebrity, LLC - @LikeaCelebNYC
Captivating Musical + Theatrical Performances by:
•Stephanie Rice, Vocalist + Composer, StephanieRice.us
•Samuel Lee LeSane III
•Arts Flamenco Dance Theatre - ArtsFlamenco.org
Guests and supporters are encouraged to tweet and socialize about the #ShopForACure event using the hashtag on all social media updates across all platforms, particularly twitter, facebook and instagram.
Besides the pink carpet, one of a kind finds, and signature pink cocktails, there will be interactive presentations and demonstrations such as makeovers, henna tattoos, performances, silent auctions and over $5,000 in raffle prizes.
About BCRF
BCRF's mission is to achieve prevention and a cure in our lifetime by providing critical funding for innovative research leading medical centers worldwide, and increasing public awareness about good breast health. Currently 91 cents of every dollar spent by BCRF is directed towards breast cancer research and awareness programs.
About Like A Celebrity, LLC
Like A Celebrity is a boutique full service virtual and personal assistant agency serving metropolitan areas. Since 2008, Like a Celebrity's team of U.S. based professional assistants have been dedicated to the advancement of entrepreneurs and busy professionals. The company offers affordable access to round-the-clock virtual assistants and personal assistants on an as-needed basis. Like A Celebrity liberates entrepreneurs and busy professionals from the little things, so they can get more done, make more money, and have more fun.
For more information visit: http://www.likeacelebnyc.com.