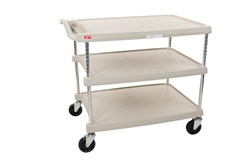 "The myCart Series will enable users to perform their daily tasks more efficiently…making every step count." - Rob Kaluzavich, product manager of open storage, Metro
Wilkes-Barre, PA (PRWEB) December 11, 2013
Metro, a world leading provider of technology, storage and transport solutions, recently announced the introduction of their new line of utility carts, the myCart Series™. The cart is not only durable and easy to clean, but is extremely user-friendly and is built around the needs of those using the cart on a daily basis. The contoured handle, spacious shelf cutaway, and roomy utility tray provide more comfort and convenience than conventional utility carts. The complete line of myCarts is available now.
"Our customers expect reliable, durable storage and transport solutions to support their important processes," said Rob Kaluzavich, product manager of open storage at Metro. "Many actual users refer to their utility cart as "their" cart because it is a critical tool for their daily activities. Whether used as transport cart, portable workstation, or supply cart, the myCart Series will enable users to perform their daily tasks more efficiently…making every step count."
When Metro designed the myCart Series it made sure to incorporate features into the design that the market not only wanted, but needed:
User-Friendly:

Up to 50% more legroom than conventional carts! Built in shelf cutaways provide the user with additional legroom so they can push the cart more freely without hitting their shins and feet when they push the cart.
Easy-grip, contoured handle and four swivel casters ensure easy maneuvering.
Roomy utility tray manages everyday objects.
Cleanable:

MyCart Series is NSF listed.
Smooth polymer shelves easily wipe clean and won't stain.
Specific models available with Microban® product protection to inhibit the growth of microorganisms that cause odors and product degradation.
Durable:

Corrosion proof, impact resistant shelves are designed to withstand daily abuse.
Sturdy construction - 300 lb. (136kg), 400 lb. (181 kg), and 500 lb. (227kg) capacity models available.
Identifiable:

Two personalization labels are included with each cart to allow users or departments to neatly mark their carts.
In addition to the new myCart Series line, Metro offers a wide range of storage and handling solutions for foodservice, healthcare, grocery, laboratory, and industrial and commercial products.
For more information on Metro and its diverse breadth products, visit http://www.metro.com
About InterMetro
For more than 80 years, InterMetro has been the world's leading manufacturer of technology, storage and transport solutions in healthcare, food service, commercial and consumer products. Committed to understanding the needs of customers and channel partners, Metro provides complete solutions that optimize space, improve workflow and ensure overall safety. InterMetro is a business of Emerson. For more information, visit http://www.metro.com.
About Emerson
Emerson (NYSE: EMR), based in St. Louis, Missouri (USA), is a global leader in bringing technology and engineering together to provide innovative solutions for customers in industrial, commercial, and consumer markets through its network power, process management, industrial automation, climate technologies, and tools and storage businesses. Sales in fiscal 2011 were $24.2 billion. For more information, visit http://www.emerson.com.