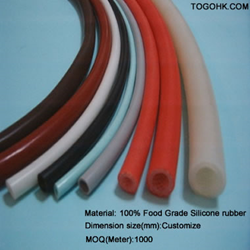 (PRWEB) October 30, 2013
Togohk.com, the leading manufacturer and wholesaler of silicone rubber products, has recently launched its new silicone tube collection; these silicone tubes are specially designed for for hookah lounge use. Also, the first 50 customers can enjoy special discounts.
According to a sales manager of the company, the silicone tubes are food grade products. They are designed to expand the niche hookah lounge market for the company. The hookah lounge market is a niche one for many companies, but Togohk.com wants to attract more high-end customers from the hookah lounges. Moreover, these tubes are offered at discounted rates now.
"We make continuous research and development on silicone molds, and we promise to bring innovative products for its customers. The raw material we use is food grade silicon which is completely safe and is approved by FDA. Moreover, we provide custom sizes and packaging for our customers without extra costs." The CEO of the company states.
Togohk.com has become a leader in the market for its high tech engineering, rendering high product quality, and competitive prices. Customer satisfaction is Togohk.com's first priority and it never compromises on product quality. All its silicone molds and tubes are offered at industry competitive rates despite the fact the every product is of high quality.
TOGOHK International Industrial Co., Ltd was founded in the year 2003. It is a China based company which specializes in manufacturing silicone products. All types of its silicone rubber products are in line with FDA and ROHS certification. High quality, remarkable service and on-time delivery are the reasons to choose TOGOHK.
For more information about the business, please visit their website at: http://www.togohk.com/?gallery=silicone-tube