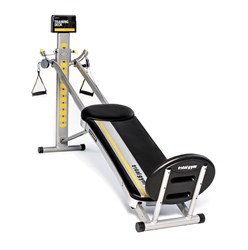 Exton, PA (PRWEB) October 30, 2013
Trusted for over 35 years, Total Gym has been empowering home users, physical therapists and fitness professionals for nearly four decades. With over 4 million customers worldwide, Total Gym has helped millions achieve their fitness goals.
Their latest home exercise machine, the Total Gym FIT targets all major muscle groups with just one workout. Resistance training, cardio training and stretching – everything the body needs, with over 85 exercises, on just one machine. Every detail of the new Total Gym FIT was designed to deliver the most efficient and effective workout. Individuals can get a total body workout in as little as 10 to 20 minutes a day.
With 2X (twice!) the levels of resistance (12 levels instead of the standard 6), the Total Gym FIT provides the user with greater control of their workout while still delivering the same great Total Gym results.
Total Gym FIT includes the best-selling Total Gym AbCrunch Accessory & AbCrunch Workout DVD transforming the FIT into an abs sculpting machine. It arrives fully assembled and ready to use out of the box, plus it comes with all the workout DVDs, accessories and tools needed to get started on the road to success.
Workout DVDs include the Total Gym Start It Up DVD, 6 to 8 Minute Workout DVD for Men & Women featuring John Carleo and Rosalie Brown and the customer-favorite Total Gym Beginner, Intermediate and Advanced Workout DVD Series featuring top Personal Trainer and Performance Coach, Todd Durkin.
Several upgraded features come standard with the Total Gym FIT including an updated 2-Piece Wing Attachment for wider range of motion, an Ergonomic Glide board with Extra Comfort System, Auto Lock Height Adjustment System for easier transition between exercises, Upgraded Steel Frame, new Custom Fender System to deliver a smoother ride, Reinforced Slide Pivot Assembly for extra strength and durability, a detachable Leg Pulley Bracket, a 400 lb user weight capacity and a sleek new look with Satin Metallic Finish.
The Total Gym FIT includes customized workouts for men, women and kids and workout programs from beginner to advanced, delivering a total body solution that the entire family, at every fitness level, ages 8 to 80, can enjoy.
Total Gym is currently offering an Introductory Special – 33% savings off of the regular price of the Total Gym FIT package. The FIT is also eligible for a 30-Day In Home Trial and convenient payment plans. All Total Gym FIT orders receive Free Shipping and Priority Processing as well as a 2-Year Extended Warranty. Discover the exciting new Total Gym FIT at http://www.TotalGymDirect.com
About Total Gym®
The Total Gym® is the ultimate workout machine utilizing an individual's own body weight as resistance to perform more than 80 total-body functional exercises. Total Gym uniquely incorporates the use of multiple muscle groups together in all planes of movement, the most efficient way to exercise and see results. Total Gym, rooted in the physical therapy market since 1986, entered the consumer "home fitness" market in 1996 with the airing of its first television infomercial featuring long-time user Chuck Norris and co-host Christie Brinkley. The Total Gym infomercial is one of the industry's longest-running and most successful; broadcast to 85 countries and credited with sales of over four million units worldwide. For more information, visit http://www.TotalGymDirect.com or call (877) TOTAL - GYM.
###