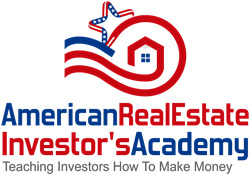 "We are turing real estate education on its head. We are creating a new dynamic learning environment that will help investors break free from the rat race"
Phoenix Arizona (PRWEB) October 31, 2013
Real estate legend Ron LeGrand joins the advisory board of the American Real Estate Investors Academy. The advisory board is made up of the most successful real estate educators in America.
The American Real Estate Investors Academy is an online real estate education platform. The format of the academy is unique to the real estate industry. According to Managing Director Josh Caldwell "We are turning real estate education on its head. We are creating a new dynamic learning environment that will help investors break free from the rat race". The mission of the academy is to match people who wish to achieve financial freedom, with educators who have a long and proven track record. The real estate market is filled with charlatans and snake oil salesman. It is the goal of the American-REIA to act as a sort of filter between the public and the illegitimate or disreputable. As the academy's web site explains "The American Real Estate Academy is guided by the ideal that the vacuum in accredited education for real estate entrepreneurs needs to be filled with high quality accredited education. For too long, university business schools have taught commercial real estate in a way that is too highly focused, too expensive, and too time consuming for the real estate entrepreneur, leaving the field open to anyone of any standard of quality to brand themselves as a self-styled 'guru'."
Ron LeGrand is a great addition to the academy board. His career spans over thirty years, and he has taught thousands of people how to earn their living in real estate. Many of Ron LeGrand's students have gone on to be successful wealthy real estate investors. Ron has earned the moniker "The Millionaire Maker". He has created more than a dozen self-study courses, and authored over twenty best-selling books. Ron LeGrand brings a great deal of knowledge and experience to the board. He is truly a living legend. His capacity as advisor will enable the academy to reach new and experienced investors.
Ron LeGrand's home study courses are available on the http:American-REIA.com web site, under the home study tab. Ron and his team also produce a content heavy educational monthly newsletter titled Ron's Gold Club. In conjunction with being honored by the academy, Ron is making a trial offer for investors who want to retire wealthy. To see the offer, just click this link.
Access to the academy's real estate education products and information rich newsletter is free to anyone who wishes to learn how to make money in real estate. To claim your membership, simply go to the clubs web site and sign in. Anyone who signs in within the next thirty days will receive a downloadable book "How To Sell Real Estate" by the American Real Estate Investors Academy.