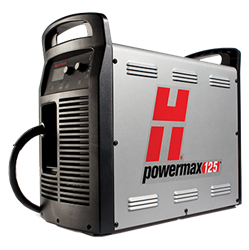 St. Louis, MO (PRWEB) October 30, 2013
The release of the Powermax125 is highly anticipated thanks to heavier plate cut capacity and cut quality. The Powermax125, which can be preordered this November, functions seamlessly with EZ Cut CNC plasma cutting tables. Thanks to a strong industry partnership, EZ Cut CNC has integrated their system and software with Hypertherm's Powermax line of plasma cutters for optimized performance.
The brand new Powermax125 is ideal for industrial plasma cutting applications with a 100% duty cycle at full 125 Amp output. Operators can achieve a 1" mechanized pierce with the new Duramax Hyamp torch, designed for high amperage cutting while extending the life of consumables.
EZ Cut CNC is offering the following promotions for new, complete plasma cutting systems ordered before the end of December 2013.

$2500 discount on new, complete EZ Cut CNC systems with Hypertherm Powermax125 air plasma cutter.
$2500 discount on new, complete EZ Cut CNC systems with Powermax125. EZ Cut CNC will accept $15,000 trade-in value on any used EZ Cut CNC complete system. *Current EZ Cut CNC customers only. EZ Cut CNC must verify condition of used systems.
$2500 trade-in value on current mechanized plasma cutter with the purchase of a new Powermax125 plasma cutter. *Current EZ Cut CNC customers only.
EZ Cut CNC is accepting preorders until December 31, 2013 and will begin shipping systems with the Powermax125 plasma cutter at the beginning of 2014. For more information about this special promotion visit: http://www.ezcutcnc.com/
______________________________________________________________________________
EZ Cut CNC plasma cutting tables are built for custom metal fabrication, industrial metal cutting, prototyping, and automated manufacturing. All systems are 100% turn-key with on-site installation and training by an EZ Cut CNC technician. This includes training on EZ Cut CNC software, complete with a shape library, pre-loaded cutting parameters for the plasma cutter, kerf-compensation, lead-ins and lead-outs, nesting, and plate cut-off.