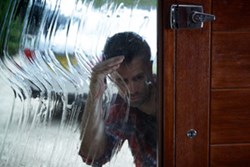 Using social media, such as Twitter and Facebook, to broadcast your movements is almost like putting a poster for burglars on your house saying, 'I'm not at home'.
Uxbridge, Middlesex (PRWEB UK) 30 October 2013
Tracker, the stolen vehicle recovery specialist (SVR), warns car owners to be careful what they put on Twitter and other social media websites, as advertising that they are out for an evening or on holiday may well lead thieves to their door.
Stuart Chapman, Tracker's Police Relationships Manager, comments, "The changing face of car theft means that owners have to take more precautions than they would a few years ago. Using social media, such as Twitter and Facebook, to broadcast your movements is almost like putting a poster for burglars on your house saying, 'I'm not at home'."
"People may not realise that car thieves will burgle a house just to get hold of a household's car keys and then drive away with any vehicles they can. Modern security systems inbuilt into vehicles mean stealing the keys is the simplest option for criminals. One of the best ways to protect a car and its contents is fitting a tracking device, allowing police to recover the vehicle as quickly as possible."
There is speculation that criminals may have targeted Rebecca Adlington's home earlier this year, after she used Twitter to say that she was out for dinner in London, 200 miles away from her Manchester home. While she was out for a meal, burglars broke into her home and made off with her boyfriend's Audi using the car keys, which were left in the house. Luckily, the thieves overlooked Rebecca's Olympic gold medals. However, Tracker's award-winning SVR technology helps police find stolen vehicles every day, significantly increasing the chances of a car being returned to its owner and arrests being made.
Tracker stolen vehicle recovery systems work like an electronic homing device. A covert transmitter is hidden in one of several dozen places around the vehicle. There is no visible aerial, so the thief won't even know it's there. Unlike other tracking systems, the device works even if the vehicle is hidden in a garage or taken abroad, offering car owners the ultimate in peace of mind should the worst happen.
Chapman concludes, "Rebecca Adlington and her boyfriend learned the hard way that thieves think nothing of breaking into a home to steal a vehicle. If a vehicle is fitted with a tracking device, the electronic signal can lead police straight to the car and even the criminals, resulting in possible arrests, as well as returning the car to its owners. We are the only stolen vehicle recovery provider working with all UK police forces, offering vital peace of mind and protection."
Notes to Editors
·Celebrating 20 years in business, with over a million market leading security and award winning fleet management systems fitted to vehicles including passenger cars, motorcycles, HGV's, LCV's and plant and construction equipment,Tracker has been leading the way in the field of vehicle tracking and telematics since 1993.
·Tracker is a wholly owned subsidiary of Direct Line Insurance Group Plc.
·Tracker, with the police, has to date recovered over £476 million worth of stolen vehicles and continues to recover on average £1 million worth of stolen vehicles each month.
·With over a million systems installed to date, its award-winning products ensure its customers have complete peace of mind.