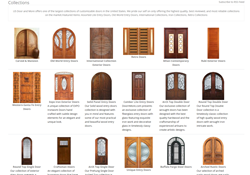 All the new designs available on Door & More website can be further customized according.
Tampa, FL (PRWEB) October 31, 2013
Door & More is located in Tampa Florida, the company introduced the new designs of Interior door and Exterior door on October the 17th, 2013. – The already rich offer on wooden front doors from Door & More has been updated with 8 new front door designs. The doors feature elements of style and design collected from across the globe, like Milan, Western or Santa Fe.
Apart from the exterior door designs containing their location in name, Door & More has made available on their website a few other types, including Retro doors, Carved & Mansion doors and exterior doors from the International Collection.
Each front door design features a couple of models from which the visitor can choose. Most of the time customers agree on the fact that there are entry door design models to fit any wall in the house, as Door & More does not only commercialize doors, but also interior door designs, with elements collected from exotic locations to urban environments.
As an example, the International Collection doors feature mostly full wooden design, with no windows. The element of attraction represents the detailed engravings of landscapes from around the world, in direct connection to the location from where the style of the door comes from.
The Old World collection for entry door comes in contrast to International Collection, featuring designs including light coloring, double windows and no engravings, for a modern look with classic insertions. Windows are placed symmetrically either on top or at the mid-section of the door, and are accompanied by metal insertions of various shapes.
All the new designs available on Door & More website can be further customized according to the taste of the client, by changing color, finishing as well as the size, in some cases. The texture of the glass can be either clear or rainy; the last one offering privacy but still letting the sunlight pass through with a consistent force.
The new additions in exterior doors including French doors can be seen anytime by accessing Door & More's website and browsing the exterior doors category drop-down menu.
Founded in 1980 by Shayann Behjati, Door and More Inc develops indoor and outdoor doors, including award winning designs. The company offers a wide variety of exterior doors, patio doors and also hardware for stylish designs.