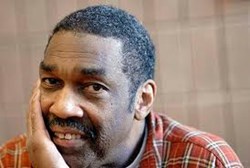 Salt Lake City, UT (PRWEB) October 29, 2013
Author and visionary community leader Bill Strickland, winner of the MacArthur genius award for using art to help improve young people's lives, will give the keynote address to celebrate the opening of Salt Lake Community College's Center for Arts & Media. The free event will be held Thursday, Nov. 7 at 7 p.m.
Strickland is a powerful voice for the message that arts and vocational training can change lives, and that there is hope for inner-city youth and unemployed or underemployed adults to escape the cycle of poverty.
Strickland's own life shows the power of art to transform. He was nearly flunking out of his Pennsylvania high school when he walked by a ceramics studio and was drawn to a teacher throwing pots. Success at the potter's wheel was the catalyst for succeeding in school. His academic path led him to graduate cum laude from the University of Pittsburgh in 1969 and rack up lecture credits that include Harvard.
He went on to create an after-school arts program, which now offers classes and workshops in ceramics, photography, digital imaging and design art. He also took over a vocational training center that customizes training for specific industries and corporations in order to better serve unemployed adults. Together, the ventures are called the Manchester Bidwell Corporation (MBC), regarded as a "national model for education, culture and hope."
Strickland founded MCG Jazz, dedicated to preserving, presenting and promoting jazz music. Its live recordings are Grammy-award winning.
Besides speaking about his vision, including in a 2008 TED Talk and writing a book about his life called "Make the Impossible Possible," Strickland also passes on his quest to "make the entire world a better place" by replicating his educational model in cities across the country through the National Center for Arts & Technology.
Strickland is the perfect fit for welcoming SLCC's new Center for Arts and Media, which will one day be a cultural and artistic gathering space for the entire Salt Lake community.
SLCC's new facility is home to programs, learning spaces, advanced technology design labs, public galleries and exhibit space for the College's School of Arts, Communication and New Media programs, which includes: Visual Art and Design, Communication, Performing Arts, and the Design Institute.
When: Thursday, Nov. 7, 7 p.m.
Where: The Grand Theatre at Salt Lake Community College, 1575 S. State Street, Salt Lake City.
Cost: Free and open to the public