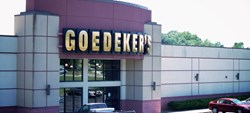 ...I've seen a trend for appliances that are simple without the bells and whistles...
Ballwin, MO (PRWEB) October 30, 2013
As the GE Artistry line of major appliances becomes available to customers, online retailer Goedeker's interviewed the 'Millennial' line's designer Thomas DeLuna and Brand Manager Steve Hopmann on the company's Home Life blog.
While touted as an affordable, uniquely styled line for a younger generation that is currently purchasing homes and starting families, the simplicity of the design should appeal to older consumers as well.
"From a number of our recent consumer research studies, I've seen a trend for appliances that are simple without the bells and whistles – just the essentials," DeLuna told Goedeker's in an exclusive interview. "I hear a lot of 'I just want a simple, easy-to-use appliance that looks good.'"
Brand Manager Steve Hopmann told Goedeker's about identifying the need for a line specifically for the next generation of home owners and some insight into the marketing strategy for the new line.
"GE is drawing inspiration from the cool, unique style of the Artistry appliances themselves and has created a digital and social marketing campaign targeting younger consumers that is playful with bold bright colors and dramatic imagery," said Hopmann. "The campaign also features Artie, the Dalmatian puppy who has yet to decide the color of Artistry appliances – white or black – he likes best."
The interview can be found at http://www.goedekers.com/blog/interview-ge-artistry-designer-thomas-deluna/.
The Artistry line from GE combines a simpler, retro look combined with modern minimalistic elements. While being touted as a value-minded series of major appliances, the touchpoints and controls consumers use give a professional feel. The entire Artistry line can be found at Goedeker's website.
Since 1951, Goedeker's has set the standard for excellence in the St. Louis retail appliance market. Since expanding online with Goedekers.com, Goedeker's has brought the same tradition of excellence to the nation. Goedeker's has continued to grow offering furniture, mattresses, and plumbing supplies, as well as major appliances from national brands.
For more information, or to schedule an interview with a representative of Goedeker's, contact Matt Davids at 888-768-1710 ext 343, or email social(at)goedekers(dot)com.