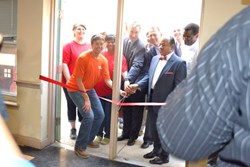 "When I toured the courtyard and realized there was a shortage of funding for this much needed project, I was called to care for the dozens of children who call Pratt Street home." said Mr. Potvin
Columbia, MD (PRWEB) October 31, 2013
Volunteers of America Chesapeake's Pratt Street Transitional Housing facility is home to 35 families and nearly 100 school aged children. Until recently, these children had no place to play.
As part of their mission to care for these families, VOA Chesapeake undertook the task of renovating an existing playground to provide their residents with a new, safe and structurally sound place to learn and grow. The project was kicked off with a $15,000 grant from KaBoom. But, funding fell short of need and it started to look like the playground was not going to be a reality.
Enter John Potvin, President of Equity Management. He committed to raising the $10,000 needed to finish the playground. Potvin challenged his business partners and worked with James Wynn, Vice President of Development at Volunteers for America to create an appeal for the Baltimore area business community. Potvin then matched the donations dollar for dollar. In two weeks Equity Management and Volunteers of America raised over $5,000. On the day of construction volunteers helped to build the playground in under six hours.
"When I toured the courtyard and realized there was a shortage of funding for this much needed project, I was called to care for the dozens of children who call Pratt Street home. I was thrilled when I heard we'd reached our goal, especially so quickly!" said Mr. Potvin, "I targeted the successful businesses I work with to ensure we could make this playground a reality."
The playground was opened to the children at Pratt Street Transitional Housing on August 15th, 2013.
Equity Management is a leading property management firm, specializing in affordable housing in the mid-Atlantic area with over 9,000 units under management in 7 states. The firm was recently recognized as the 57th largest manager of affordable housing by NAHMA (National Affordable Housing Management Association). This is the 5th consecutive year Equity Management has been named to the Top 100 list. Equity Management has experienced rapid growth and has a wide range of management services to help investors meet their needs.