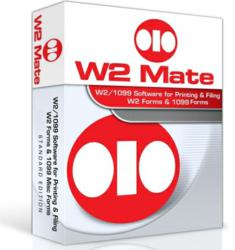 A free trial of W2 Mate 2012 can be downloaded from W2Mate.com. Customers can purchase W2 Mate and receive it instantly.
Chicago, IL (PRWEB) January 04, 2013
Real Business Solutions (http://www.W2Mate.com/) is proud to present the 2012 1099-C processing module available inside its W2 Mate software. The in-house 1099 solution gives business filers, CPAs and accountants all the tools they need to import, populate, print, e-file and review 2012 / 2013 Forms 1099-Cancellation-of-Debt. W2 Mate also supports tax forms 1099-MISC, 1099-INT, 1099-DIV, 1099-K, 1099-R, 1099-S, 1098-T, 1098, 1099-A, 1099-B, 1099-PATR, 1099-OID and W-2
For 2012, the titles for boxes 1, 2, and 6 on Form 1099-C have changed. Box 1 is now Date of Identifiable Event; box 2 is now Amount of Debt Discharged; and box 6 is now Identifiable Event Code, and requires the entry of a code for the identifiable event. For 2012, all codes are optional except for Code A—Bankruptcy.
Every year, business filers and tax professional are faced with the task of processing year-end information returns. 1099 and W-2 tax forms must be printed and delivered no later than end of January, so that recipients can receive these tax statements in time for their own income tax reporting with the IRS. W2 Mate software makes the process of 2012 / 2013 W2 1099 filing smooth, easy and above all affordable.
A free trial of W2 Mate 2012 can be downloaded from http://www.W2Mate.com/. Customers can purchase W2 Mate and receive it instantly.
In a statement Nancy Walters, W2 Mate product manager at Real Business Solutions said, "If your recipient 1099 information or employee W-2 information resides inside QuickBooks and you are looking for a 1099 software to prepare your QuickBooks 1099 forms or W2 forms then W2 Mate is definitely for you."
New changes and updates to forms 1099 were introduced by the IRS for 2012. New boxes have been added, some boxes have been removed and others have been renumbered, modified or moved. All these and other 1099 compliance changes are supported by W2 Mate software for the 2012 / 2013 tax season.
W2 Mate is the perfect software program for business filers looking for answers to questions like how to file 1099 C with the IRS, how to electronically file 1099-C with the IRS in year 2012, how to file 1099's with state of Colorado, how to print 1099-C forms from Great Plains (MS Dynamics), how to print 2012 1099 C forms and many other similar questions.
Microsoft dynamics, Intuit QuickBooks and Sage 50 / Peachtree consultants and users are invited to try the state-of-the-art 1099-C import wizard available inside W2 Mate software by visiting http://www.W2Mate.com. Interested filers can order W2 Mate 2012 and receive it instantly.
1099 tax documents may be sent to the government electronically via the IRS FIRE system, a component of the Internal Revenue Service online services for business filers. The 2012 1099 electronic filing feature inside W2 Mate software prepares an unlimited number of E-File transmittals which comply with IRS publication 1220. E-filing 1099s using W2 Mate 2012 is easy and affordable.
W2 Mate Software Highlights:

Prepares unlimited number of 2012 W2 and 1099 forms for multiple employers and payers.
Fills in pre-printed 1099 Copy-A forms and prints other 1099 copies such as recipient and payer copies on plain paper using black ink.
E-files 2012 W2s and 1099s with the SSA and IRS (no limitations on the number of tax forms or submissions).
Creates 2012 employee W2's as PDF and recipient (vendor) 1099's as PDF.
SSA-approved to print W2 and W3 forms on regular paper including government copies.
Data import from MS Dynamics, Great Plains, Intuit QuickBooks, Sage Peachtree, Sage DacEasy, Excel and CSV. Data import from QuickBooks removes the "800 Form" / "$10 Million payroll" maximum limitation.
Efficient and intuitive manual W2 / 1099 data entry.
Supports 1099MISC, 1099K, 1099INT, 1099DIV, 1099R, W2, W3, 1096, 1099S, 1098T, 1098, 1099A, 1099B, 1099C, 1099PATR, 1099OID.
Automatically calculates Social Security and Medicare taxes. For paper filers 1096 and W3 are automatically generated.
Supports Windows 8, Windows 7, Windows Vista, Windows XP, Windows Server 2003, Windows 2000 or Windows 98.
Roll-over of payer and recipient information from year to year.
Password protection and data validation.
Generates printing labels, form totals and recipient lists.
Prompt, courteous and reliable U.S.-based support through phone, chat or e-mail.
Network ready with affordable pricing for multiple seats.
Exports W2s and 1099s to excel.
Free downloadable updates.
TIN matching and verification including reports for missing TINs and TIN matching errors.
Inexpensive.
Prepares 1099s for a contract workers.
Includes deadlines for 1099 mailing (1099 filing due dates).
Complete 1099 electronic filing software for accountants, CPAs and small business.
A free 2012 1099 C and W-2 program evaluation can be downloaded from http://www.W2Mate.com. Customers can purchase the software and receive it instantly.
About Real Business Solutions: Established in 2003, Real Business Solutions is an industry leader in providing payroll state taxes solution, 1099 software solutions and W2 forms programs for 2013, 2012, 2011 and before. Real Business Solutions products are used by thousands of businesses, tax professionals, non-profit organization, and government agencies all across America. The Company's mission has been to provide powerful and great value software solutions coupled with high quality customer service.