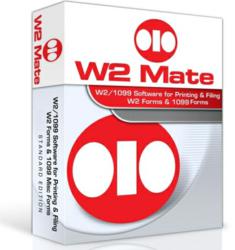 QuickBooks users can save hundreds of dollars by utilizing 1099 Emailing utility from W2Mate.com
Chicago, IL (PRWEB) January 07, 2013
Real Business Solutions (W2Mate.com) announces the release of 2012 batch 1099 emailing software with support for importing 1099 data and contractor email addresses from Intuit QuickBooks. The new 1099 emailing utility supports IRS forms 2012 W2, 1099MISC, 1099INT, 1099DIV, 1099R, 1099S, 1098T, 1098, 1099A, 1099K, 1099B, 1099C, 1099PATR and 1099OID.
QuickBooks users can save hundreds of dollars by utilizing this new tool. W2 Mate is trusted by thousands of businesses and professionals nationwide. A free demo of the W2 1099 software can be downloaded by visiting http://www.W2Mate.com.
W2 Mate can import, print, email and E-file W2 and 1099 forms for the following QuickBooks versions:

QuickBooks Pro.
QuickBooks Premier Accountants Edition.
QuickBooks Premier Professional Services Edition.
QuickBooks Premier Contractor.
QuickBooks Premier Nonprofit Edition.
QuickBooks Premier Manufacturing & Wholesale.
QuickBooks Enterprise Solutions.
W2 Mate directly connects to QuickBooks and extracts 1099 information along with recipients' email addresses. The user has the option to map QuickBooks 1099 data to different tax forms such as 1099-MISC, 1099-INT, 1099-DIV, 1099-R and many more. Once data is imported, the user can batch email password-protected PDF 1099s to recipients using the new 1099 Emailer utility inside W2 Mate. The process is simple and easy to follow.
1099 Emailer software is an add-on utility which can be purchased on top of W2 Mate software in order to automatically batch e-mail tax forms such as W2s and 1099s to employees and recipients. 1099 Emailer is designed to send thousands of emails at the click of a button. For example a company can batch email 1099-MISC forms to contractors and recipients at the end of the year instead of mailing paper forms.
The tax forms generated using W2 Mate are government-approved and comply with SSA publication 1141 (General Rules and Specifications for Substitute Forms W-2 and W-3) and IRS publication 1179 (General Rules and Specifications for Substitute Forms 1096, 1098, 1099, 5498, W-2G, and 1042-S).
W2 Mate Software highlights:
Prepares unlimited number of W2 and 1099 forms for multiple employers and payers.
Fills in pre-printed 1099 Copy-A forms and prints other copies such as recipient and payer copies on plain paper using black ink.
E-files W2s and 1099s with the SSA and IRS (no limitations on the number of forms or submissions).
Free downloadable updates and free technical support by phone, email and chat.
Creates employee W2's as PDF and recipient (vendor) 1099's as PDF. Please see http://www.realtaxtools.com/W2-Mate.html
Support 1099 TIN Matching (Bulk Tax Payer Identification Number Matching).
Prints government-approved W-2 and W-3 forms on regular white paper (no red-ink form to buy),
Imports data from Intuit QuickBooks (QuickBooks Pro, QuickBooks Enterprise, and QuickBooks Premier), Microsoft Dynamics (GP or SL), Sage Peachtree, Sage DacEasy or CSV/ Excel.
Efficient and intuitive manual W2 / 1099 data entry.
Automatically calculates Social Security and Medicare taxes.
Supports 1099MISC, 1099INT, 1099DIV, 1099R, 1099-K, W2, W3, 1096, 1099S, 1098T, 1098, 1099A, 1099B, 1099C, 1099PATR, 1099OID.
Supports Windows 8, Windows 7, Windows Vista, Windows XP, Windows Server 2003 or Windows 2000.
Roll-over of payer and recipient information from year to year.
Password protection and data validation.
Generates printing labels, form totals and recipient lists.
Give W2 Mate software a test drive and see for yourself how easy QuickBooks 1099 emailing and print can be. Visit http://www.W2Mate.com/ .