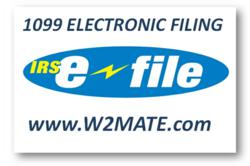 This new release of W2 Mate reflects our commitment to delivering affordable, easy-to-buy and easy-to-use W2 1099 printing and filing solutions that help companies of every size process IRS 1099 tax forms in-house.
Chicago, IL (PRWEB) January 10, 2013
Real Business Solutions, payroll and 1099 solutions provider, today announced the release of the 2012 1099-MISC electronic reporting module for their flagship product, W2 Mate. The new software supports the latest 1099-MISC EFile format as defined by Internal Revenue Service Publication 1220 (Specifications for Filing Forms 1097, 1098, 1099, 3921, 3922, 5498, 8935, and W2-G Electronically). Free trial download of the new software is available from http://www.W2Mate.com/ .
The IRS FIRE (Filing Information Returns Electronically) system is set up for financial institutions and others to file Information Return Forms 1042-S, 1097, 1098, 1099, 3921, 3922, 5498, 8027, 8935, or W-2G. An Information Return is a tax document required by Internal Revenue Code regulations and is used to report certain types of payments made by financial institutions and others who make payments as a part of their trade or business. The IRS describes electronic filing as "The hottest way to file your Information Returns with the coolest results."
The 2012 1099 E-filing module, which ships with W2 Mate prepares an unlimited number of electronic filing submissions which comply with IRS publication 1220. 1099 E-filing is easy to use, efficient, fast, flexible and above all very affordable. Business filers can use W2 Mate to e-file many types of 1099 forms including 1099-MISC.
In a statement Nancy Walters, W2 Mate product manager at Real Business Solutions said, "W2 Mate W2 1099 program is a special breed of applications that fills a niche often left by many tax systems. W2 Mate makes the compliance tasks associated with W2 1099 reporting easy and affordable for both businesses and tax professionals."
A free 2012 1099 MISC program evaluation can be downloaded from http://www.W2Mate.com. Customers can purchase the software and receive it instantly.
According to 2012 IRS regulations, penalties may be assessed for failure to file correct information returns (1099, 1098 and other similar tax forms) by the due date, without reasonable cause. This includes Form 1099-MISC. The penalty may also apply if the filer shows incomplete or incorrect information, or files on paper when required to file electronically. Businesses and accounting professionals required to process IRS Form 1099-MISC this year can rely on W2 Mate for all their 2012 / 2013 filing needs.
W2 Mate Software Highlights:

Complies with 2012 IRS Specifications for Filing Forms 1099 Electronically and complies with SSA Specifications for Filing Forms W-2 Electronically (EFW2).
Prepares unlimited number of 2012 W2 and 1099 forms for multiple employers and payers.
Supports 1099MISC, 1099K, 1099INT, 1099DIV, 1099R, W2, W3, 1096, 1099S, 1098T, 1098, 1099A, 1099B, 1099C, 1099PATR, 1099OID.
Data import from Sage Peachtree, MS Dynamics, Great Plains, Intuit QuickBooks, Sage DacEasy, Excel and CSV.
Creates 2012 employee W2's as PDF and recipient (vendor) 1099's as PDF.
W2 1099 software that supports Windows 8, Windows 7, Windows Vista, Windows XP, Windows Server 2003, Windows 2000 or Windows 98.
Government -approved to print W-2 and W3 tax forms on regular paper including federal copies.
Efficient and intuitive manual W2 / 1099 data entry.
Fills in pre-printed 1099 Copy-A forms and prints other 1099 copies such as recipient and payer copies on plain paper using black ink.
Automatically calculates Social Security and Medicare taxes. For paper filers 1096 and W3 are automatically generated.
Roll-over of payer and recipient information from year to year.
Password protection and data validation.
Generates printing labels, form totals and recipient lists.
Prompt, courteous and reliable U.S.-based support through phone, chat or e-mail.
Network ready with affordable pricing for multiple seats.
Exports W2s and 1099s to excel.
Meets IRS and SSA regulations.
TIN matching and verification including reports for missing TINs and TIN matching errors.
Secure and reliable.
Calculates social security tax withheld on W2 forms.
Helps filers comply with state 1099 filing requirements.
Helps filers meet 1096 and W3 due dates for 2012.
A free evaluation of W2 Mate 2012 can be downloaded from http://www.W2Mate.com/. Customers can purchase the software and receive it instantly.
About Real Business Solutions: Established in 2003, Real Business Solutions is an industry leader in providing payroll tax software, W-2 1099 printing and E-Filing programs, tax forms and supplies. Real Business Solutions products are used by thousands of businesses, tax professionals, non-profit organization, and government agencies all across America. The Company's mission has been to provide powerful and great value software solutions coupled with high quality customer service.