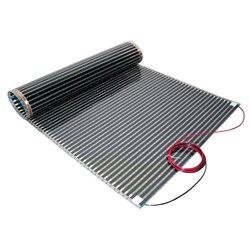 Since InfraFloor Film can be installed without any glue or cement, it can be installed in less than one day.
Highland Park, IL (PRWEB) December 03, 2013
In many parts of the country, temperatures are falling well short of their normal highs. But, unseasonably cold temperatures don't have to put a freeze on the holidays. When the weather outside is frightful and the family room with sliding patio doors is not so delightful, it's time to consider installing a warm floor. Now is the perfect time with floor heat from FloorHeat System's Inc. on sale at http://www.infrafloor.com.
Consumers increasingly wary that "gray Thursday" and "Black Friday" detract from family time during the holiday can shop online from the convenience of their own homes. There's no need to leave home and family and face the frenzied throngs of holiday shoppers. There's no waiting in long lines to get high quality floor heat systems at a deep discount.
Almost anyone can take advantage of their holiday day's off to stay home with family and install a floor heat system. Three or four days are certainly enough time to install a warm floor in a family room, basement or kitchen, especially with FloorHeat Systems new InfraFloor Film for floating laminate and engineered wood floors. Since InfraFloor Film can be installed without any glue or cement, it can be installed in less than one day. All that's needed is to roll out the three layers of the heated floors system: 1) insulation underlayment, 2) InfraFloor electric radiant floor heating film and 3) vapor barrier. The remaining two or three days' time is required to install the floor itself and for the electrician to "rough-in" the electrical and connect the thermostat.
FloorHeat Systems also offers floor heat for tile floors in kitchens and bathrooms. For people comfortable using thin-set mortar or self-leveling cement to install tile, these floor heat systems are do-it-yourself friendly. Otherwise, the homeowner can install the warm floor mats or cable and call a tile installer to lay the floor. An electrician is also needed to connect the thermostat.
Homeowners and professional installers conveniently shop the InfraFloor secure and verified website 24/7/365. Many buyers choose to call the toll-free "heatline" to speak with knowledgeable and trusted professionals to help them navigate their floor heat options. InfraFloor's honest, informative, respectful company sales representatives are prepared to answer floor heat installation questions by phone or email.
FloorHeat Systems, Inc. is a USA supplier of UL compliant, energy saving, affordable, electric radiant warm floor systems. It provides free shipping on most orders, fast-response planning expertise, installation and technical support for floor heat systems. A 100%/90-day return policy with no restocking fees rounds out FloorHeat System's "customer–first" policy. To learn more, visit: http://www.infrafloor.com.