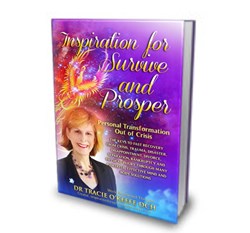 Sydney, Australia (PRWEB) November 01, 2013
Most of us experience some kind of trauma or crisis in our life, but too many of us hang on to our disasters – sometimes for years – allowing them to define us and hold us back from our goals and dreams. Fortunately there is a way out of this cycle of suffering.
In her new book, Inspiration for Survive and Prosper, Dr Tracie O'Keefe, a doctor of clinical hypnotherapy, psychotherapist, counsellor and coach, who has helped more than 20,000 people in her clinics over the past 20 years overcome crisis fast, reveals what it takes to survive well after disaster, transform from the past and create the skills to prosper in the future.
Dubbed a "precious and life-saving gift" by Sydney psychologist Matthew Kalitowski, the book and downloadable program provide practical and proven strategies and techniques including:

How to get over feelings of anxiety, depression and of being stuck and put yourself squarely on the fast track to a better life;
How to build the solid foundation you need to deal with life and stressful events more effectively;
How to ensure your trauma becomes something that happened to you and not something that defines you;
How to heal the emotional wounds that are holding you back;
And how to become resilient in the face of adversity.
Overcoming adversity is something that O'Keefe herself has done throughout her life. As a child, she was abandoned, physically and sexually abused, and institutionalised due to being transsexual. As an adult she has experienced discrimination, violence and rape, yet she went on to become a highly successful therapist, coach, author, public speaker and business woman.
"I made up my mind to beat all the odds and succeed far beyond anyone's expectations of me. I teach people that it is not 'Can you have what you want?', but 'How fast can you have what you want?'" says O'Keefe, who was plunged again into crisis in 2012 at the age of 57 when her partner of 20 years left her.
"I found myself suffering Post-Traumatic Stress Disorder, triggered by the previously buried childhood memories. I never in a million years expected me, an experienced therapist, to encounter this. I knew I was in deep trouble. For a brief time I thought I wouldn't make it and then I realised I'd been helping people with this situation for decades. I utilised all the knowledge and clinical skills I'd gathered over the years and wrote the Inspiration for Survive and Prosper book and program. The process was so successful that I knew I had to bring the program to help as many people as I could who have suffered crisis or trauma in their lives.
Told as a teenager by a medical professional that "people like you" were not suited to careers in the caring professions, O'Keefe, who is also a qualified and registered naturopath, has devoted the past 20 years to helping others become the best they can be.
"The process I've developed shaves years off your personal recovery and transformation process. Life is precious and we can't afford to waste one minute of it," she says.
Inspiration for Survive and Prosper: Personal Transformation Out of Crisis by Tracie O'Keefe is published by Vivid Publishing and is available on Amazon as a print and ebook. More information can be found at http://www.inspirationforsurviveandprosper.com/book
About Tracie O'Keefe
Tracie O'Keefe is a leading expert in rapid behavioural change. She's helped thousands of people to overcome challenges and turn their lives around, fast. She is an internationally recognised and qualified clinical hypnotherapist, psychotherapist, counsellor, couples and family counsellor, sex therapist, naturopath, medical herbalist, medical nutritionist, author, speaker and director of the Australian Heath and Education Centre. Inspiration for Survive and Prosper is her seventh book. More information at http://www.tracieokeefe.com and http://www.doctorok.com.