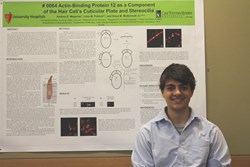 As a high school student, this is an amazing opportunity to work in a hospital setting with topnotch researchers and facilities.
Hunting Valley, Ohio (PRWEB) October 31, 2013
Who would have thought that a tiny fish could play such a big role in medical research?
University School senior Andrew "Drew" Megerian certainly knows. Using the minnow-sized zebrafish in his research, Drew is working with Dr. Brian McDermott and other researchers at Case Western Reserve University School of Medicine to learn more about how hair cells play a role in hearing.
"The hair cells of zebrafish are similar to those of humans," Drew explained. "They also share the same genes as humans that cause deafness so they are ideal models for this kind of research."
Since 2010, Drew has been working with Ph.D. candidate Lana Pollock at Case. He is studying the protein composition in the stereocilia of the hair cell, which is located in the inner ear and is most responsible for relaying audio impulses to the brain.
"The structural properties of certain proteins within the stereocilia directly correlate to the brain's ability to perceive sound," said Drew. "The aim of this research is to better understand how people hear with the ultimate goal of helping those with hearing problems."
In February, Drew will travel to Chicago to represent the Ohio Academy of Science at the American Junior Academy of Science's (AJAS) Annual Meeting. Drew was selected based on his appearance last spring at the Ohio Academy of Science's Annual Conference where he presented his research and submitted a manuscript of his work.
"As a high school student, this is an amazing opportunity to work in a hospital setting with topnotch researchers and facilities," said Drew, who is an Anderson Scholar in Science at University School. "I've learned so much in the past three years."
The medical gene runs strong in the family. Drew's father is an Otolaryngologist Head and Neck surgeon at University Hospitals Case Medical Center. His mother is a physician in the Department of Physical Medicine and Rehabilitation at MetroHealth Medical Center. Drew heard about Dr. McDermott's research from his dad. As he became more interested in biology and genetics, Drew knew he wanted to work in the lab.
"I enjoy the trial, error and ambiguity of the research," Drew said. "Being in the lab at Case isn't like a school science lab because things don't always work like you would expect," he said. "Many times the results are confusing. Still, I've taken great joy in trying to figure out what's going on, then trying again when things don't work."
The teen credits University School for propelling his interest in medical research. "The science classes at US have definitely opened my eyes to research and medicine as a career field," said Drew. "The topics covered in class often overlap with my work at Case."
Like other Anderson Science Scholars at University School, Drew is acquiring the research skills necessary to become a good scientist. He joins other students at US who are pursuing individualized programs that connect course work with significant experiences outside the walls of the school.
About University School:
Founded in 1890, University School is an independent day school, educating boys in kindergarten through grade 12. The school's mission is to develop promising and motivated boys into accomplished and independent young men who aspire to make a difference in the world. University School has two suburban campuses in Cleveland, Ohio: the Shaker Heights Campus for boys in kindergarten through grade 8, and the Hunting Valley Campus, which is home to students in grades 9-12. Visit http://www.us.edu for more information.