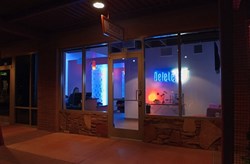 It's been amazing to see how removing an unwanted tattoo can transform a life. The stories submitted to #TattooTales show the impact of one bad decision. Most patients were afraid of costs, scarring and/or pain before they found Delete Tattoo Removal.
Phoenix, AZ (PRWEB) October 31, 2013
Delete® -- Tattoo Removal and Laser Salon, Phoenix's premiere tattoo removal specialist, has announced it will host its third anniversary 'Deleteathon' celebration Monday, November 11 at its 16th Street and Bethany Home Road salon location. Complimentary tattoo removal, B-12 shots, express facials, appetizers and cocktails will be provided at the salon throughout the day to celebrate three years and thousands of complete tattoo removal treatments.
Since opening its doors in November of 2010, the Delete salon has provided near pain free, scarless tattoo removal – a dramatic contrast to tattoo removal methods of the past. Based on proprietary research, Delete introduced the exclusive 4-n-1® Laser Tattoo Removal Treatment, where four treatments are administered in a single visit. Created by Delete, the 4-n-1 treatment is the fastest and safest way to remove a tattoo. The 4-n-1 can shorten the tattoo removal process for some down to as little as one day with the use of the AlexELETE® laser by Candela, available only at Delete.
"Just as the popularity of tattoos has continued to grow, the demand for tattoo removal and fading has grown," explained Marci Zimmerman, founder and CEO of Delete. "Until Delete, tattoo removal was a frightening process. With our expert physicians, three numbing options and the advanced technology of the AlexELETE laser, we make tattoo removal affordable, safe and comfortable."
From 9 a.m. to 7 p.m., new patients are invited to take advantage of complimentary laser tattoo removal treatments up to 4" in size at the November 11th in-salon event. Salon staff will also be on hand to give express facials and B-12 shots, while guests are treated to light bites and the salon's signature 'Eraser' cocktails. A special 25% off of pre-paid tattoo removal packages will also be offered throughout the all-day celebration.
"Sometimes, bad tattoos happen to good people. Delete is an answer to that problem – we're safely, effectively and affordably filling that niche. It's been amazing to see how removing an unwanted tattoo can transform a life." Zimmerman continued, adding that "The stories submitted to #TattooTales show the impact of one bad decision. Demand for expert removal is out there – and it's hard to ignore. Most patients have always wanted one or a number of tattoos removed, but were afraid of the costs, scarring and/or pain. There is no better feeling than seeing our patients beaming with happiness after their appointment."
The salon was the first freestanding tattoo removal salon in the Phoenix area. With its exclusive AlexELETE laser by Candela, Delete is able to treat tattoos of all colors, significantly improving on typical removal results. A second Delete - Tattoo Removal salon opened on Newbury Street in Boston, Massachusetts in 2013. Additional franchised tattoo removal salons are planned in 2014. Franchise inquires are welcomed.
The Phoenix salon also provides skin services including collagen induction therapy and scar remodeling using Micropen®, laser removal for melasma, birthmarks, skin lesions, sun spots and freckles and PCA® chemical peels, as well as rejuvenating treatments including six custom nutrient infusions and B-12 boost with add-ons.
To schedule a free tattoo removal, facial or B-12 shot, please call 855-2DELETE or click to request a Deleteathon appointment. Delete -- Tattoo Removal & Laser Salon is located at 6020 N. 16th St. in Phoenix.
About Delete - Tattoo Removal & Laser Salons
Delete - Tattoo Removal & Laser Salon with its team of board certified medical specialists incorporates medically advanced techniques and state-of-the-art laser technology to provide more effective removal of tattoos of every color – at an affordable price. Package pricing, financing and complimentary consultations facilitate the experience for Delete's patients.