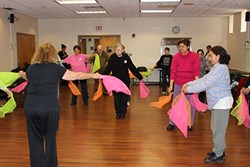 Hoboken, NJ (PRWEB) October 31, 2013
CarePoint Health Hoboken University Medical Center and the Arthritis Foundation to provided a six-week exercise program for people living with arthritis. Each hour-long exercise session provides participants with improved joint mobility, muscle strength, and endurance through various exercises lead by certified Arthritis Foundation Exercise Trainer, Kathy Geller. Additionally, participants also learned pain and stress management strategies, facts about arthritis, medications, and current treatments. Through this program, participants learned techniques on to how to stay active with arthritis by enabling them to improve their performance in daily activities.
For more information, please contact CarePoint Health Public Relations Department at 201-418-2335.