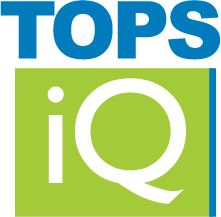 The automation and intelligent design layout of TOPS iQ allows your community management company staff to work smarter, not harder.
Gaithersburg, MD (PRWEB) October 30, 2013
TOPS Software, a leading provider of software for the management of common interest communities, announced today the release of their next generation software offering, TOPS iQ.
TOPS iQ is the successor to TOPS Professional, and represents the commitment that TOPS has made to provide association management companies with comprehensive management, accounting and automation features. TOPS iQ is a hosted solution, designed to leverage the benefits of "The Cloud".
"At TOPS, we believe in providing your organization with all the tools you need to grow your business and satisfy your customers," says Mike Hardy, TOPS President. "The automation and intelligent design layout of TOPS iQ allows your community management company staff to work smarter, not harder."
Highlights of the new features included in TOPS iQ include:

Full access to the program modules of TOPS Professional, including homeowner management, comprehensive accounting tools, maintenance and rules enforcement.
Powerful SQL Server database which runs concurrent to existing client databases.
New 'Metro' style user interface design.
Workspace Manager, which makes multitasking easier, and provides a list of recently accessed items for each individual user.
Complete menu reorganization to make accessing features more logical and easy to find.
Dashboards provide visual reporting of key parameters associated with community data.
Grid Views for all major modules allow quick organization, searching, filtering and even exporting of community data.
New interactive reports further control the way data is displayed for community association clients.
New 'Backstage View' allows easier access to and control over all administrative and setup options.
TOPS iQ is available in three plans: Basic, Advanced and Enterprise. These comprehensive packages provide a range of built-in tools and services in addition to the base iQ program to provide customers with the maximum functionality to run their business. Also included in each package are a range of professional services designed to get new customers up and running quickly, from data conversion to implementation to unlimited technical support.
Current TOPS Professional users should contact their TOPS Account Representative to request a demonstration of TOPS iQ and inquire into whether iQ is the smart choice for their team.
About TOPS Software
TOPS Software, the leader in Condominium and HOA management solutions, is committed to bringing the best products and services to market. TOPS products are used by thousands of organizations to manage millions of homes across the United States. Learn more at http://www.topssoft.com.