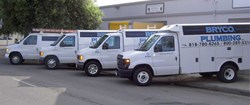 Homeowners who make the decision to move forward with the installation of a tankless hot water heater from Bryco Plumbing will now receive a ten percent off discount
Los Angeles, CA (PRWEB) October 30, 2013
Homeowners these days realize that they have two options to contemplate when replacing the hot water heater in their home. Choice A: a tank-style hot water heater, or choice B: a tankless hot water heater. Each choice provides them with the ability to have hot water through their plumbing features on demand, but keep in mind, a tankless hot water heater can offer far more benefits.
Homeowners throughout the San Fernando Valley have been scrambling to switch over to tankless hot water heater s in the masses. The fact is that a tankless hot water heater is much more beneficial to many homeowners. This is a hot water heater that heats water on-demand, so there is never a worry about running out of hot water because the water stored in a tank has been depleted.
A tankless hot water heater may be a superior option to a tank-style hot water heater in most households. This is because it is known to be more energy efficient. Tank water heaters maintain the water stored in the tank at a constant temperature. Because hot water is not used in most homes throughout the day, storing heated water can be a waste of energy. A tankless hot water heater helps homeowners in reducing both energy and water costs.
Homeowners who make the decision to move forward with the installation of a tankless hot water heater from Bryco Plumbing will also now receive a ten percent off discount and the best service from Bryco's award winning staff of professionals. Bryco Plumbing's team is available 24 hours a day to provide emergency service around the clock. While some water heater replacements are not urgent matters, others are. When a hot water heater fails in the middle of the night and a replacement is needed, Bryco's fast installation services become am invaluable benefit. Whether one tankless hot water heater is being installed or multiple heaters are being installed in piggyback fashion, the team at Bryco Plumbing is there to help.
Some San Fernando Valley residents need to schedule immediate service for a hot water heater replacement when their current heater has stopped working. Others may be interested in making an upgrade for energy efficiency purposes. For all hot water heater installation needs, the pros at Bryco Plumbing will help San Fernando Valley homeowners explore the options and make a decision that is best for their needs and budget.
About
Bryco Plumbing is a reputable plumbing company that offers both residential and commercial services in the Los Angeles and San Fernando Valley area and surrounding communities including Beverly Hills and Malibu. Bryco's skilled team offers 24-hour emergency service to ensure customers do not have to wait long for plumbing assistance. The company can be reached by phone at (818) 780-8265 or by visiting their website at http://www.bryco-plumbing.com