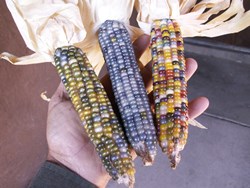 "Glass Gem reminds us of the beauty that is possible in nature," says NS/S Executive Director McDorman. "By saving seed, we can create crops that are not only works of art, but can thrive in a changing climate and provide healthier, more delicious food."
Tucson, Arizona (PRWEB) October 31, 2013
In May of 2012, a photo of a stunning rainbow-hued ear of corn called "Glass Gem" became a global sensation online. Since then, the buzz around this remarkable heirloom has grown as gardeners begin to plant and harvest the variety themselves. Glass Gem is stewarded by the Tucson, Arizona-based seed conservation nonprofit Native Seeds/SEARCH (NS/S), which made the rare seed available to the public for the first time earlier this year.
Growing Glass Gem is a remarkable experience. Unwrapping each unique and vividly colored ear from its husk is like opening a magical present. To capture and celebrate this natural beauty, NS/S is producing a 2014 Glass Gem calendar featuring the finest specimens grown during the 2013 season. A Glass Gem Photo Contest recently concluded to collect the most striking images from growers around the world. Winners will be announced on the NS/S website on November 8. Calendars will be available for sale through the NS/S online store and retail location in Tucson.
The origin of Glass Gem traces back to Carl Barnes, a part-Cherokee farmer living in Oklahoma. Barnes excelled as a corn breeder, selecting and saving seed from those cobs that exhibited vivid, translucent colors. Over many years, his painstaking efforts created the wondrous corn cultivar that has now captivated thousands of people worldwide.
The story of Barnes and his remarkable corn is not unusual. For millennia, farmers and gardeners have elegantly interacted with the plants that sustain them through careful selection and seed saving. This ongoing process changes and adapts the plants to take on any number of desirable characteristics, from enhanced color and flavor to disease resistance and hardiness. The bounty of genetic diversity our ancestral farmers and gardeners created in this way was shared and handed down across generations.
Under today's industrial agricultural paradigm, much of this irreplaceable diversity has been lost. But the emergence of Glass Gem reveals that the potential for seed saving to develop impressive new crop varieties lives on.
"Glass Gem reminds us of the beauty that is possible in nature," says NS/S Executive Director McDorman. "By saving seed, we can create crops that are not only works of art, but can thrive in a changing climate and provide healthier, more delicious food."
Native Seeds/SEARCH cultivates Glass Gem corn for its seed. Sales of Glass Gem help support the organization's mission while ensuring the remarkable variety is widely grown and enjoyed. Packets can be purchased online (shop.nativeseeds.org) or at the organization's retail store location in Tucson.
About Native Seeds/SEARCH
Founded in 1983, the Tucson, Arizona-based seed conservation nonprofit Native Seeds/SEARCH (NS/S) preserves and shares the indigenous agricultural seeds of the desert Southwest. Contained within the organization's state-of-the-art seed bank is a living collection of nearly 2,000 crop varieties adapted over centuries by Native Americans and early settlers to the region. NS/S works across diverse areas in seed conservation, distribution, and education to ensure this precious diversity is kept alive, available, and in use across the Southwest and beyond.