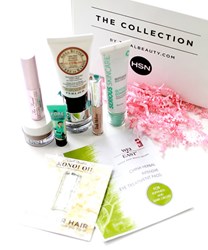 "The partnership with Total Beauty Media Group allows our customers to discover new products and enhances our position as a great resource for beauty."
Santa Monica, CA (PRWEB) October 31, 2013
TotalBeauty.com has teamed up with entertainment lifestyle retailer HSN to offer its customers an all-new sampling collection packed with the latest, best-selling beauty products. The collection launches October 31 on HSN.com and via HSN Mobile and will be followed by a 24-hour on-air exclusive beauty event on November 13.
The Total Beauty Collection for HSN features nine best-selling beauty products from top brands, including Benefit POREfessional, Trish McEvoy Eye Base Essentials, Carol's Daughter Monoi Oil, and Too Faced Better Than Sex Mascara.
"HSN continues to be on the forefront of offering our customers a carefully curated assortment from some of the best national brands, as well as our own exclusive merchandise," said Erica Evans, VP of Beauty Merchandising for HSN. "The partnership with Total Beauty Media Group allows our customers to discover new products and enhances our position as a great resource for beauty."
This exclusive sampler is packed with products that offer customers immediate results, from skin-firming treatments to a pore-minimizing solution. Timed to launch on the cusp of the holiday season, the Total Beauty Collection for HSN is perfectly geared for stocking-stuffer gifts and instant beauty solutions for busy shoppers.
"The whole idea is to introduce our audience of millions of women to the great HSN brand," says Executive Vice President of Programming and Engagement, Beth Mayall-Traglia. "Especially since it's that time of year when we all begin to stress about our holiday shopping, so the timing couldn't be better."
The 9-piece Total Beauty Collection for HSN, a $60 value, is gift-priced at $19.95 (includes free shipping). The collection will be available on HSN.com and via HSN Mobile from October 31 to November 13. Viewers can also purchase collections during the 24-hour live event on November 13, across all of HSN's platforms. During the live event, TotalBeauty.com Collection Editor Audrey Fine will share expert beauty tips and in-depth detail about the special collection, and answer viewer questions.
For more information, visit TotalBeauty.com or follow them on Facebook, Twitter, and Instagram.
###
About Total Beauty
Total Beauty Media Group operates TotalBeauty.com, home of the largest database of independent, unbiased beauty product reviews for women. Founded in 2007, TotalBeauty.com features hundredof thousands of user-generated reviews, spanning more than 55,000 products, including well-known prestige, mass-market, salon and spa products. In addition, the site publishes daily editorial coverage of beauty news and trends.
Total Beauty Media Group's portfolio of digital beauty, health and lifestyle media properties includes: TotalBeauty.com, BeautyRiot.com, LimeLife.com and ModernMan.com. Total Beauty Media Group is backed by USVP and Wallington Investments and headquartered in Santa Monica, Calif. with offices in New York. For more information about the company, visit TotalBeautyMedia.com.
About HSN
HSN is a leading interactive entertainment retailer, offering a curated assortment of exclusive products and top brand names to its customers. HSN is a leader in boundaryless retail, offering customers a seamless shopping experience across multiple channels – television, online, social and mobile. At HSN, customers find exceptional selections in Health & Beauty, Jewelry, Home/Lifestyle, Fashion/Accessories, Kitchen, and Electronics. HSN broadcasts live to 95 million households in the US in HD 24/7 and its website - hsn.com features more than 50,000 product videos. Mobile applications include HSN apps for iPad, iPhone and Android. HSN, founded 36 years ago as the first shopping network, is an operating segment of HSN, Inc. (Nasdaq: HSNI). For more information, please visit HSN.com, or follow @HSN on Facebook and Twitter.
Press Inquiries:
Tiffanie Petett: TPetett(at)totalbeauty(dot)com