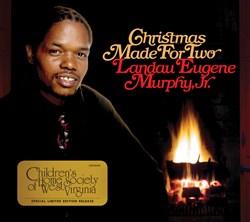 Everywhere I've gone in the past two years, people kept asking me if I'd do a Christmas album. I love holiday music, and I'm happy to give folks what they want.
(PRWEB) October 31, 2013
The next two months are going to be non-stop for Landau Eugene Murphy Jr., the dreadlocked classic crooner vocalist who won season six of NBC Television's America's Got Talent. In the next 60 days, Landau has a schedule that would fill up an entire career for most entertainers: a new CD release, a Christmas tour that will take him across the U.S.A. with former vocalists from the Temptations, Platters and Drifters, recording sessions in Hollywood for an upcoming album, a new book release that will see him doing at least two dozen joint CD/book signings, several TV appearances including a live telecast to receive a special Spirit award during the West Virginia Music Hall of Fame induction, a national radio promotion campaign, singing in the televised Macy's Parade in Pittsburgh, a series of Christmas charity appearances, and a 20 hour flight to China to perform with fellow AGT winner Michael Grimm. "I can't wait; I feel like I'm on a rocket that's about to blast off," said Murphy from his home in Logan West Virginia, where he just returned from Los Angeles where he has been writing and arranging songs for an upcoming CD.
The holiday whirlwind starts with Christmas Made For Two, the new album set for release November 5th, with a portion of all proceeds benefiting The Children's Home Society in Murphy's home state of West Virginia, a charity that Landau has supported for more than a decade. Featuring fresh, jazzy spins on Christmas classics, the album is guaranteed to bring holiday cheer and find its place beneath many a Christmas tree this season. "Everywhere I've gone in the past two years, people kept asking me if I'd do a Christmas album. I love holiday music, and I'm happy to give folks what they want," says the soft-spoken crooner of his second album.
Christmas Made for Two features Landau's trademark rich vocal textures backed by an all-star lineup of musicians, including several members of Murphy's touring band. Highlights include up-tempo, horn driven takes of "White Christmas" and a swinging "Santa Claus Is Coming To Town," along with romantic fireplace and mistletoe ballads including "The Christmas Song (Chestnuts Roasting On An Open Fire)" and "I'll Be Home For Christmas." The single being released and promoted to radio stations nationwide is a jazzy, hip new arrangement of "Let It Snow." The album also includes two new Christmas songs: jazz piano great Bob Thompson's "Quiet Christmas" and the title track "Christmas Made For Two" from Nashville songsmiths Scott Krippayne and Jeff Peabody. A heartfelt holiday duet featuring Landau and former Temptations lead vocalist Glenn Leonard on a spiritual, understated "Silent Night" rounds out the album. Leonard reprises his lead vocal on the classic from the smash hit "Temptations Christmas" album. Glenn will join Landau on many of his Christmas tour dates.
The short version of Landau's life story is well known to the 14 million viewers who watched his climb to the top on NBC TV's America's Got Talent; formerly homeless, the smiling car washer who won a million dollars, a recording contract and a Las Vegas headlining stint at Caesars Palace. This Christmas, the entire story is available to readers everywhere. Landau and award winning co-author Rick Robinson have penned America's Got Talent Winner Landau Eugene Murphy Jr.: From Washing Cars to Hollywood Star. Published by Headline Books, the memoir depicts Landau's rise to fame from some not-so fortunate times. The true rags-to-riches story follows a man with big talent, a big heart and an even bigger dream, and how he made that dream come true. The book includes extra features, personal insights from close friends and coworkers, a behind the scenes tour diary, and a scrapbook of never before seen photos.
"As a West Virginian, it was a very proud and emotional moment to watch Landau win America's Got Talent," said NBA legend Jerry West. "I'm so pleased that Landau is living his dream – a true American success story."
Landau will be appearing nationwide at multiple Barnes & Noble locations, Adams Hallmark stores, malls, and other venues to sign copies of his new Christmas Made For Two CD and book From Washing Cars to Hollywood Star. The official release date for the book is Friday, November 1st, while Christmas Made For Two is set to release on Tuesday, November 5th. Both the CD and book are available for pre-order now through his website and via Amazon.
To support the release of his CD and book, Landau will be celebrating the holiday season in style with his Classic Christmas Crooners Tour, which kicks off Friday November 1st at the Stonewall Resort in Weston, WV and wraps up in Beckley, WV on December 28th. The tour will include stops in California, Kentucky, Pennsylvania, Maryland, Washington DC, Virginia, West Virginia, and a short overseas leg in China. Select shows in several markets will feature as special guests the former lead vocalists from legendary supergroups The Temptations, The Platters, and The Drifters. Each extraordinary singer will perform their biggest hits, and they'll all spread holiday cheer singing Christmas classics from Landau's new "Christmas Made For Two" CD, backed by Landau's Big Band. Landau's Classic Christmas Crooners Tour is sponsored by Little General Stores.
A pair of lucky fans will also have the opportunity to join Landau in-studio on November 21st in Hollywood as he records his upcoming album with Grammy award winning producer Jeff Weber, and receive VIP seats for his show at the legendary Vitello's in Studio City, CA on November 22nd.
In China on December 6th and 7th, Landau will perform at Shanghai's Mercedes Benz Arena alongside fellow America's Got Talent winner Michael Grimm and judge local talent for the chance to open the show. A major highlight of the show is sure to be when a finalist from China's Got Talent will join Landau on stage to sing a duet… in English, hopefully.
During his home state West Virginia tour dates, Landau will be collecting non-perishable food items and toys for needy families this Christmas with the help of several Mountain State charities for the third year in a row. For a complete list of cities where Landau will be performing, links to purchase tickets and details on his upcoming book and CD signings, visit Landau's website at http://www.landaumurphyjr.com.
Contact: Jessica Lloyd at (703) 589-8960 or jessica(at)allenmediastrategies(dot)com.